NEW AFRICAN GAY FICTION BOOK TO BE LAUNCHED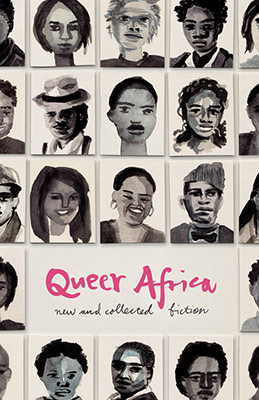 Queer Africa, a new collection of eighteen 'queer' stories, is set to be launched by Gay and Lesbian Memory in Action (GALA) on Saturday.
According to GALA, Queer Africa "brings together historical and contemporary stories, affirming and disquieting stories, urban and rural stories. It features characters who are rooted firmly in their countries and cultures, and others who could live anywhere in the world."
It goes on to say: "At its heart, the collection celebrates the diversity and fluidity of queer and African identifications and expressions, offering a sometimes radical re-imagining of life on the continent. The stories courageously – and often in surprising and delightful ways – challenge assumptions about what it means to represent particular human experiences."
Queer Africa is published by GALA's new publishing division MaThoko's Books. "This is our first foray into publishing short fiction and we are quite excited about it," GALA's Anthony Manion told Mambaonline.
The anthology is edited by Karen Martin, a fiction writer, collage artist and professional editor, and Makhosazana Xaba, an author and poet.
The stories in Queer Africa are truly pan-African with tales by writers from six African countries: Botswana, Nigeria, South Africa, Uganda, Zambia, and Zimbabwe.
The writers included in the anthology are: Wame Molefhe, Richard de Nooy, Dolar Vasani, Natasha Distiller, Wamuwi Mbao, Barbara Adair, Beatrice Lamwaka, Lindiwe Nkutha, Rahiem Whisgary, Mercy Minah, Roger Diamond, Monica Arac de Nyeko, Annie Holmes, TO Molefe, Davina Owombre, Martin Hatchuell, Emil Rorke, Lindiwe Nkutha, K Sello Duiker and Rory Kilalea.
At Saturday's launch the editors will discuss the history and motivation behind this collection of short fiction. There will also be a panel discussion on producing art and culture on queer themes in South Africa.
The launch will be held at Wits University in Johannesburg on Saturday 17 August and starts at 2pm. To attend, contact Adelaide Nxumalo at nxumalo.adelaide@wits.ac.za or on 011 717 4239.
Queer Africa is available at Exclusive Books and other good bookstores. The recommended retail price is R180.