WATCH: ZAC EFRON'S NUDE SCENE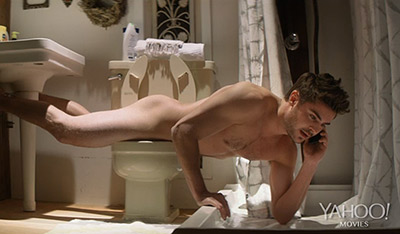 Zac Efron has made his gay fan's dreams come true (well, almost) by appearing naked in the trailer for his new romantic comedy bromance movie That Awkward Moment.
In the just released trailer, the sexy 25-year-old actor is shown naked in one scene while trying to pee horizontally because he has an erection from taking too much Viagra.
In another hilarious scene, his character arrives at a formal party with an impressive strap on (sadly not his own) penis poking out his pants.
The movie also stars Michael B. Jordan and Miles Teller as a group of friends who make a pact to stay single after one of them is dumped.
Efron has been in the news lately for more than just his chiselled abs or film projects. It recently came to light that he's been in rehab twice this year, apparently to treat cocaine addiction.
With his recent substance abuse problems and this raunchy comedy Efron seems well on his way to evolving from a clean-cut teen heartthrob to a grown up sex symbol.
That Awkward Moment will be in US cinemas from 31 January next year and is set to be released in South Africa in April.
Watch the trailer below (possible NSFW).