HUNKY STAR NAKED IN ANTARCTICA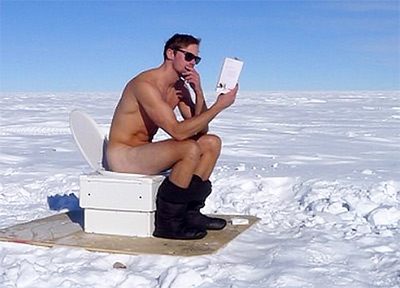 Alexander Skarsgard, the gorgeous star of True Blood, has posed in the buff while visiting the South Pole, and shared the pictures with the world.
One photo shows the naked 37-year-old Swedish-born actor wearing sunglasses and reading while sitting on a toilet amidst the ice and snow.
Posted on Instagram, the picture's caption reads: "#southpole -30C What are you reading Alex? The script for season 7 of #truebloodHBO ? :-)"
The second photo shows the still naked hunk lying on a deck chair in the snow, once again reading a book.
Skarsgard plays the role of vampire Eric Northman on the popular gay-friendly series. He was in Antarctica as part of the recent Walking with the Wounded Challenge charity expedition.
The three team multinational expedition, in which Prince Harry also participated, aims to raise money for wounded soldiers.
The pictures were posted by Inge Solheim, Skarsgard's team guide on the 320-kilometre expedition.
Solheim later tweeted: "The picture we took for 'shits and giggles' is trending on internet #alexanderskarsgard Fun, but press should donate…" He also included a link to Skarsgard's fundraising page.
The star clearly has no issue with showing off his body and has appeared naked on screen a number of times, most recently in the season six finale of True Blood.
In 2010, Skarsgard spoke to People magazine about his nudity in the hit show.
"I'm not a prude at all," he said. "I shot a very, very graphic scene two days ago with a man. I am from Sweden, and it's different there. If it makes sense, I'll just do it. And to me, so far, it's made sense every single time I've got naked or made out on the show."
Season seven of True Blood, the show's last, will be premiere towards the middle of the year.