JOBURG "RAGES" AGAINST ANTI GAY LAWS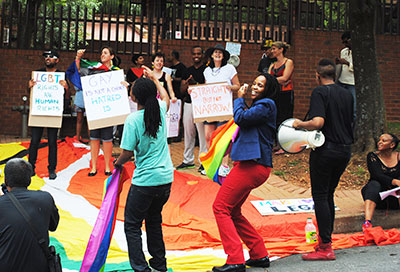 Activists staged a "day of rage" protest against anti-gay laws in India, Nigeria and Uganda in Johannesburg on Sunday.
The demonstration was held outside the Indian Consulate and saw around 50 protesters voicing their anger at international state homophobia.
The event was held to coincide with India's Republic Day and highlighted that country's recent Supreme Court refusal to protect the right to equality of LGBT people and instead striking down an earlier court ruling unbanning gay sex.
"The December 11 ruling's referral to the LGBT community as being too small to warrant constitutional protection is abominable and offensive," Sharmi Surianarain, who organised the event, told the small crowd.
Veteran LGBT activist and filmmaker Bev Ditsie also spoke out against horrific anti-gay laws in Africa, recently enacted in Nigeria and awaiting presidential approval in Uganda.
"It is sad that we are still here in 2013, not just in India but around the world, as LGBT people are being harassed and detained and murdered," she said.
She called for a moment of silence in memory of those imprisoned or killed because of their sexuality or gender identity, including Ugandan LGBT rights leader David Kato, who was murdered on 26 January 2011.
"It's a shame that history keeps repeating itself," added Ditsie. "Governments and people in these countries don't realise that that taking away the rights of one minority group allows rights to be taken away from every other minority group."
Eugene Brockman from the Gay Flag of South Africa urged South Africans to welcome African LGBT refugees fleeing from homophobic legislation and criticised the Department of Home Affairs for "not recognising LGBT asylum seekers".
The protest concluded with a petition calling on India to respect the rights of LGBT people being handed to the Indian Consul General, Randhir K. Jaiswal.