Did this Joburg man just say that gays should be shot?
In the wake of the Orlando massacre, a Johannesburg man appears to have called for gay men to be shot.
On Wednesday, Gerhard de Bruyn reacted to an article posted on the 702 Facebook page about the film Chemsex; documenting the link between drugs and sex among gay men.
The post includes a picture of men dancing in what appears to be gay nightclub, perhaps not dissimilar to Pulse in Orlando.
De Bruyn's comment was simple, to the point and frightening. He said: "SHOOT TO KILL."
Disturbingly, his comment was liked by Lubabalo Dinga, who also stated that the Alberton man had the the right to "freedom of speech".
Linda Cele, however, pointed out that "there is a difference between hate speech and freedom of speech…"
De Bruyn's comment, if understood correctly, is hate speech of the worst kind – inciting violence against a group or community, in this case, gay men.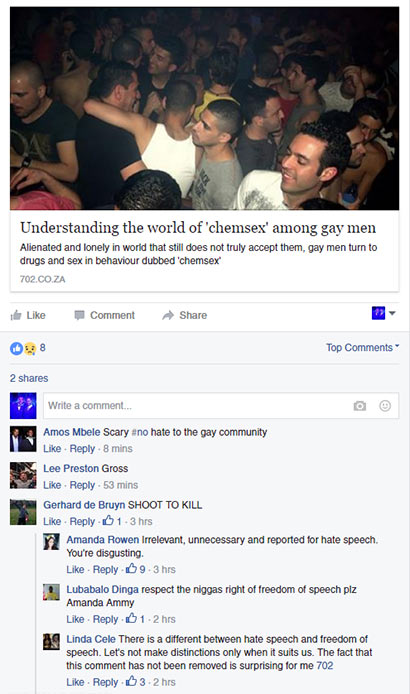 Mambaonline has attempted to contact De Bruyn but has not yet received a response to our message.
Clive Vanderwagen-Julicher, who pointed out De Bruyn's post to Mambaonline, reported the comment to Facebook.
Unbelievably, the social media site responded to Vanderwagen-Julicher that the post "doesn't violate our Community Standards".
If inciting murder doesn't violate Facebook's "Community Standards" then it's unclear what does.
KwaZulu-Natal resident Penny Sparrow was recently fined R150 000 for hate speech after she posted a comment comparing black South Africans to monkeys.
On Sunday, 49 people were slaughtered by 29-year-old Omar Mateen who opened fire on hundreds of revellers inside the Pulse gay nightclub.
Update: 702 appears to have removed De Bruyn's comment from its page.