Here's the new Joburg biker group that's unapologetically gay
Biker groups have traditionally been seen as bastions of gung-ho heterosexual masculinity. Now, a new gay biker group in Johannesburg is set to shake up the stereotype.
Possibly the first if its kind in South Africa, the aptly named 'The Unapologetic' group is planning to start tearing up roads and highways across Gauteng.
Mambaonline spoke to its founder, James William Brown, about the fledgling new group which is keen to grow and get members to join up.
This draughtsman and motorcycle repairman says he's struggled with many issues in his life and he hopes that The Unapologetic will help others who are into motorbiking find a family, motivation and a support structure.
The Unapologetic sounds like it's going to shake things up…
Well, I started the group to prove people wrong. To show that we're still 'normal' people, even though we're gay. The main point is to reach out to the community and help people who struggle and to show we care. Ultimately, I want to help prove wrong all the stereotypes that people have about being gay.
When was it started?
About three months ago. I almost lost my life in November and it was something I've wanted to do for a long time. The experience motivated me to start something to get the community to stand together.
How many members do you have?
At the moment it's just me and a friend who are the bikers, and then we have Brad Phillip Gent at Angry Monkey, who are the suppliers of our colours (leather waist coats) and of stickers and branding. We're working on a web page as well, which will be live soon.
What will the group do and when do you get together?
The plan is to do breakfast runs on Sundays and then have weekends-away as a group. We'll have weekly meetings and parties at Trouble Bar; they are a local pub and meeting place and back us fully. Also, I'm busy working on getting some bikes together to ride in the Pretoria Pride march.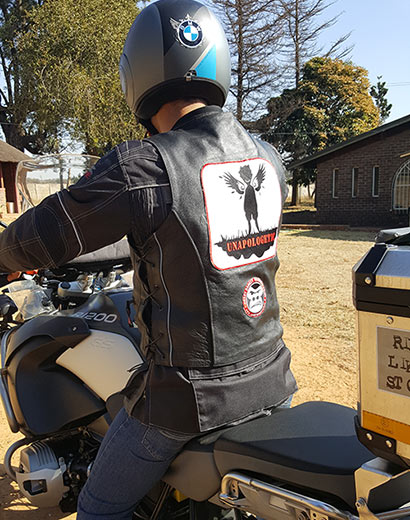 So, why is there a need for a gay biker group?
There are no gay biker groups to my knowledge and I think it's something that's needed so [gay bikers] don't feel they're alone. It should give them a feeling that they're part of something and they're making a difference. It's also a way to meet new people and help others come out; showing them that they don't need to conform to what society says they are.
Have you been part of other biker groups? Have you experienced any discrimination?
I am still a member of a group. Once they found out I'm gay, things did change, and people did treat me slightly differently for a while – but they got used to it.
Why should people join up?
To feel part of a family. To make a difference in the world and stand up for themselves and to know that they have The Unapologetic family behind them for support at all times.
If you want more info or would like to join The Unapologetic, check out their Facebook page or contact James on Unapologeticbikers@hotmail.com.