SA's award-winning gay & lesbian feature film now available online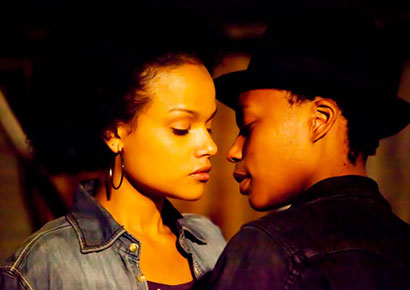 If you missed it on the big screen, here's your opportunity to watch last year's acclaimed South African queer movie While You Weren't Looking.
The international festival edition of the 76min film can now be rented on the FILMDOO site at the cost of US $3.99 for 48 hours.
Produced by Out In Africa, While You Weren't Looking has screened at over 80 international Film Festivals, has won 4 International Awards (Audience Award, Best Film and Best Director in Europe and USA) and had numerous SAFTA nominations and awards.
The film takes a look at South Africa through the lives and experiences of a cross section of Cape Town queers. Dez and Terri, a mixed-race couple married 20 years and adoptive parents, are the trailblazing lesbians of the New South Africa. But, have these freedoms guaranteed them happiness?
Asanda, their 18 year old adopted daughter, is the poster child for South Africa's diversity but describes herself as "an experiment", being made up as she goes along. She meets Shado, an enigmatic Tommy Boy from Khayalitsha, a township on the edge of Cape Town, and a different picture of the New South Africa emerges.
Beautifully shot on locations in and around Cape Town, it features a stellar South African cast and a line up of great local music and the work of South African artists on display.
While You Weren't Looking was funded by The National Lottery Distribution Trust Fund, with additional finance from The Department of Trade & Industry and a grant from The Other Foundation.
The film was recently nominated for a 2016 Chevrolet Feather Award in the category of best media (click here to vote).
To rent While You Weren't Looking online, go to FILMDOO now. (While you'll need to register, other than the once-off US $3.99 cost, there are no additional subscription or signup fees.)