Q&A: The multitalented and stunning Jarryd Nurden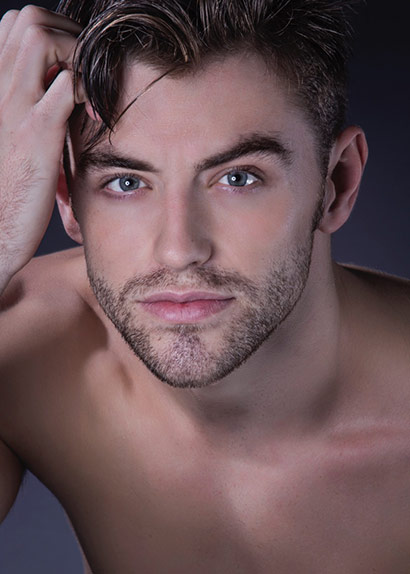 If ever someone had a destiny to fulfil, it's Jarryd Nurden. This Pietermaritzburg-born singer, dancer, actor and model has been steadily making his mark in the local entertainment world from a young age.
He studied Musical Theatre at TUT, was signed as a model by the ICE agency in Cape Town and has gone on to impress in a number of high profile, big budget stage shows, such as Starlight Express, West Side Story and CATS.
Jarryd can currently be seen in the new vamped up version of Joseph and the Amazing Technicolour Dreamcoat at the Theatre on the Bay in Camps Bay.
He's not only multi-talented (and clearly gorgeous to look at), but he's also openly and proudly gay. In the still fairly closeted South African entertainment world, he's a breath of fresh air.
You seem to be living every gay showboy's dream. Do you sometimes pinch yourself to make sure you're not dreaming?
Absolutely! To wake up each day and not be grateful that I get to do a job that I love would be a sin.
You've been in a number of major musicals. Which has been your favourite?
This is such a hard one. Each show I've done has been so influential and special in its own way, but I would have to say CATS. It's the hardest show you will ever put your mind, body and soul through and the most rewarding at the same time. It gave me the opportunity to grow so much and left me with the sheer satisfaction of performing this iconic musical every night.
Being in the arts was something you've been drawn to since a young age. Was your family supportive or would they have preferred you were a lawyer or doctor?
My family has been incredibly supportive and are the reason why I've been able to gain so much momentum so quickly. I am so grateful I have parents who trust in my passion and abilities.
Many of us have that film, show or performer that inspired us as a child to dream big. What or who was yours?
Mine was the legend himself, Michael Jackson.
Describe Jarryd at the age of 15? What kind of teen was he?
Ambitious, insecure, courageous, strong willed, determined, happy… to sum it up in a few words. I was a young teen who was battling to understand his sexuality while being determined to stand against the severe bullying that took place, because I loved what I did.
So being a stage kid set you up for all kinds of bullying?
It sure did. But no matter how bad the bullying was or how hurt I got, I promised myself that it would never stop me from singing if I wanted to sing, dancing if I wanted to dance, and acting if I wanted to act. People are afraid of what they don't know or don't understand.
How do we fight this?
Education and schooling systems are to blame. We need to be taught kindness and acceptance, no matter how masculine or feminine the activity or situation may seem to be. Unfortunately, teenagers are often the most fearful as they don't even know who they are yet and will lash out in situations they don't understand.
In addition to singing, dancing and acting, you're also a model…
I love modeling! Getting in front of a camera is no different to film acting or stage acting. In some instances it's harder as you have a few seconds to create a story, believe it, feel it and let it read truthfully through a single photograph. No words, no movement – just a still captivated storytelling moment. It's magic.
Tell us about your work in Joseph. What are its challenges?
My role in this show is diverse! From a butch acting brother to an infatuated camp Pharaoh fan, to playing the sincere and optimistic butler – it keeps me on my toes. I love having the opportunity to change characters during the show – your creative juices just bubble.
Do you remember your first experience meeting another gay person or understanding what being gay is?
It was exhilarating because I met someone who was openly living their truth… happily, and loving their life. I wanted that. It made me feel hopeful and it made me want to discover my own truth. So the journey of discovery began.
Did you have a coming out experience with your family?
I was only comfortable about being open with my sexuality with my family once I was comfortable in my own skin. That took some time. During university I decided that I was a gay man and that you either accepted me for who I was or you didn't. And those who chose to love me and join me did, and those who didn't I forgave and let go.
Have you ever been reticent about being open about who you are and who you love out of fear that it could affect your career?
Never. I am a proud gay man. But I don't need to billboard it and headline it either. I'm not Jarryd Nurden because of my sexual orientation, I'm Jarryd Nurden because of my mind, my heart, my ambitions, my passions, my beliefs and for who I embody. My career also isn't who I am – it's a part of what I do.
Would you like to be seen as an LGBT role model?
I would love to be an LGBT role model. Not because I need or want people to follow the way I live my life but more because I want to support those who want to live their lives more truthfully and openly. I want to be a support to the community, a voice to help fight the struggles and in creating peace for the LGBT community.
You're often touring South Africa and the world. How does that affect your ability to have a relationship?
It's definitely a curse and a blessing. You're able to meet the most beautiful people from all around the world but the challenge will always lie when you meet that special someone and it's time to leave for your next contract or city.
What do you do like to do in your downtime to relax and have fun?
Any chance I have to go horse riding, I go! That's my quality time away from the chaos. Otherwise, I love going on small adventures; hiking, sightseeing or finding new restaurants to try out. I also love doing as little as possible on my down time too. On my bed or couch, relaxing to music with a glass of wine is just the best recipe.
What would settling down mean to you?
It would mean peace, balance, success and grounding my life in one particular country. It will definitely happen. I hope to have a family of my own one day.
Follow Jared on Instagram. Joseph and the Amazing Technicolour Dreamcoat is on at the Theatre on the Bay in Cape Town until 5 November. It then returns to Montecasino in Johannesburg from 10 November until 29 January 2017.