Watch: Manila von Teez takes 2nd place in SA's Got Talent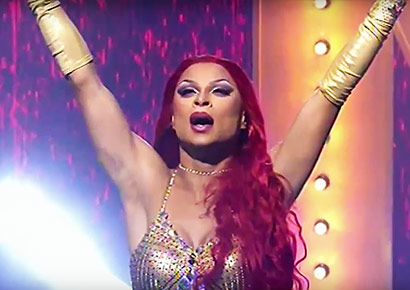 Drag star Manila Von Teez was the runner up on Sunday night's finale episode of SA's Got Talent 2016.
The Capetonian performed to the Christina Aguilera song Show Me How You Burlesque, along with her two ever-present backup dancers.
There was a giant "M" that dropped onto the stage, feather fans, much shimmying and, of course, her signature costume and wig changes.
While Von Teez gave it her all, ultimately the audience chose Kryptonite Dance Academy as the winner. The group walked away with a R500 000 cash prize, also beating out finalists Jesse Govender, Derek Plaatjies, The Professionals and Phoenix.
Von Teez has received massive public support during her time on SA's Got Talent and was seen by many as a favourite to win.
Writing on Facebook after the finale, Von Teez – 26-year-old fashion designer Veon Wentzel – showed no sign of disappointment. She thanked her dancers, Junaide Abrahams and Nathanian Jacobs, exclaiming: "I could not have asked for better people to share this journey with, I love you both very much!"
She went on to say: "I came on to SA's Got Talent to show South Africa that I believe in my craft and my community. Being judged (as we always are) for who you are and what you believe in, on national TV, has been one of the hardest things to do.
"South Africa proved last night that once we learn acceptance and love for each other, we can achieve so much!"
Von Teez has previously won pageant titles such as Miss Black Pride, Miss Cape Town Pride, Miss Cape Peninsula and Miss Loerie. She performs regularity at the Zer021 club and at other events and parties in the Mother City.
Von Teez recently made a splash with her appearance in the music video for The Kiffness track You Say You Love Me, which honoured SA's LGBTI community and the victims of the Orlando massacre.
She previously told Mambaonline that she hopes her success "will open doors for even more drag performers to be seen".
Check out Von Teez' SA's Got Talent finale performance below.