Is your GP "unfreakoutable"? Introducing Yellow Dot Doctors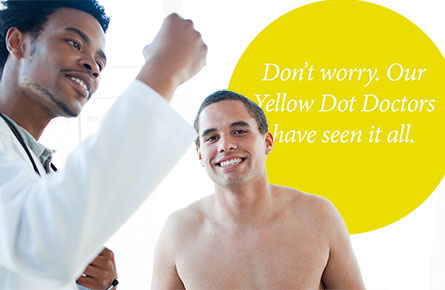 I'm ashamed to admit that as a proudly out man, there's still one very important person in my life who doesn't know I'm gay: My GP.
After six years, the topic has just never come up. I haven't come out and he's never asked. Thankfully, I don't think it's made a difference in my healthcare (as far as I know). I'm not happy about it, but I have no idea how he'll react and he's never indicated any openness to the possibility.
While stigma and discrimination are probably more likely in the public health service, it is also a reality in private medical practice. Plus, our own fear of being judged or shamed (yes, that's me) often means we're reticent to open up about our relationships or sex lives.
While we may think that our sexuality isn't relevant to our doctors, it could well be. Our sexual activity and habits can impact on a range of health issues that a doctor may not even consider following up on, unless she knows.
Have you asked your GP about that niggly issue you've had when it comes to anal sex? Or mentioned that itch that won't go away? If you're single and on the scene, have you asked him about getting on to PrEP to protect you from HIV (it's recommended for gay men by global health experts).
And, even if you have, was your doctor clued up? There is generally limited awareness of specific MSM (men who have sex with men) needs among health care workers in South Africa.
That's why Anova Health, who are behind Health4Men and WeTheBrave.co.za, have come up with an initiative that helps link gay, bi and other MSM with friendly private doctors who've heard it all and won't blink twice.
It's called Yellow Dot Doctors and it's quite brilliant in its simplicity. If you go to a private doctor and you see a yellow dot in his or her reception, office or loo (a poster, or a sticker for example), you'll know that you're truly welcome to be yourself. A Yellow Dot Doctor is certified as being officially "unfreakoutable".
"The Yellow Dot is a distinctive visual device that informs MSM that a particular GP offers an MSM-friendly consultation," explains Jane Waithaka from Anova Health.
"This creates an environment for MSM to open up about their sexual health to their Yellow Dot Doctor and puts their minds at ease, creating a judgment-free zone so that they feel comfortable enough to talk to the doctor about anything," Waithaka says.
Anova not only checks that Yellow Dot Doctors are willing and happy to be open with you about anything and everything, but they also importantly provide the GPs with support and training to make sure they're knowledgeable about sexual health issues facing gay and other MSM.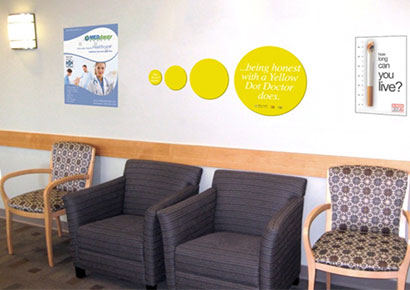 According to Waithaka, "The attitude of healthcare providers has been shown to be a major barrier to health facility utilisation. The challenge is for healthcare providers to render quality healthcare in spite of their personal attitudes and beliefs."
In fact, around 20% of doctors approached by Anova declined to take part, citing their religious values, clinical interest and personal, cultural or other beliefs. Well, it's their loss – we can take our business elsewhere!
The good news is that, so far, 370 GPs have signed up as Yellow Dot Doctors, mostly in Gauteng. Anova plans to roll out the initiative more extensively to other provinces. Next on the schedule are KwaZulu-Natal and the Western Cape.
So how do you find a Yellow Dot Doctor? It's easy: go to www.yellowdotdoctor.co.za and do a search for one near you (doctors' details are still being added to the listings). And, if you're a doctor and want to sign up, you can also contact Anova via the same website.