Exclusive Books sponsors Jozi Cats gay rugby tour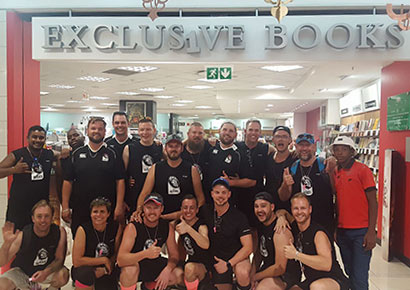 Exclusive Books, South Africa's largest bookselling chain, has signed on as lead sponsor for the Jozi Cats #BtheWhistle gay rugby tour.
The tour, which aims to blow the whistle on homophobia in sport, while inspiring other LGBTQI communities to start their own gay and inclusive rugby clubs, kicked off in Bloemfontein over the weekend.
"Sport is one of the last few pockets of our social fabric where homophobia is tolerated and socially acceptable," said Jozi Cats vice chairman, Anthony Seger.
"This does not meet the values of good sportsmanship and mutual respect, and for this reason we decided to take bold action by going on the road to speak up about it."
These values, at the heart of the club that describes itself as a "people association" first and a sports club second, are what attracted Exclusive Books CEO Benjamin Trisk to getting involved.
"We are in the business of complementing and challenging perceptions of the world and it was for this reason that we decided to support the Jozi Cats in their quest to do the same," said Trisk. "Their values of diversity, inclusion and good sportsmanship mirror our own. They challenge the status quo of what is no longer appropriate or permissable in sport in South Africa and across the world."
The move by Exclusive Books is a welcome one. Despite our progressive constitution, corporate South Africa and well known brands have largely kept their distance from the LGBTQI community.
The Jozi Cats Exclusive Books #BTheWhistle #GayRugbyTour includes "Big Gay Rugby Day" Touch Rugby Clinics in Bloemfontein, Port Elizabeth, Plettenberg Bay and Khayelitsha and a fundraiser at La Paz Mexican Restaurant in Knysna.
There's also a Touch Rugby Tournament with Cape Town-based gay rugby club, BLIGHT, and the newly formed Stellenbosch gay rugby club, steLGBTouch, at Green Point Salesian FC in Cape Town, on Friday 16th Decemeber 2016.
Based in Johannesburg, Jozi Cats is Africa's first gay and inclusive competitive rugby club. For more information about the tour, log on to www.jozicats.co.za or visit their Facebook page.