Constitutional Court rules on Qwelane case, trial to resume in March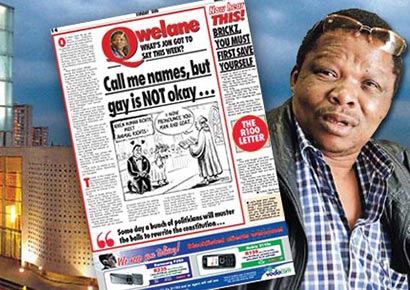 In a mixed ruling, the Constitutional Court has found that it was procedurally unfair for the Jon Qwelane hate speech case to have been postponed.
According to the court, the South Gauteng High Court should not have postponed the matter without having first considered the objections to the move by the SA Human Rights Commission (SAHRC) and the Psychological Society of South Africa (PsySSA).
However, the Constitutional Court also said that it could not interfere in the case because a new date had already been set for the trial to resume in March.
"The result is that the indefinite postponement to which PsySSA was objecting to is no longer indefinite," ruled Justice Edwin Cameron. "It is [therefore] not in the interests in justice to intervene in the case."
PsySSA, which is a "friend of the court" in the case, had asked the Constitutional Court to reverse the lower court's indefinite postponement of the matter in August.
Qwelane's lawyer unexpectedly requested the postponement because he claimed that his client was too ill to attend the hearings.
PsySSA argued that the judge had not allowed it and the SAHRC to submit affidavits opposing the application. It also said that the court had not considered all the facts as to whether Qwelane was indeed unfit to appear in court, and, if so, whether there are other means through which his testimony might be given.
According to Times Live, Qwelane's lawyer, Andrew Boerner' refused to say if his client would be well enough to appear in court in March. The case has dragged on for over eight years, with no resolution.
In his infamous 2008 article, Call me names, but gay is NOT okay… published in the Sunday Sun, Qwelane compared homosexuality to bestiality and urged politicians to remove the sexual orientation equality clause from the Constitution.
In 2011, an Equality Court ruled that the article "propagates hatred and harm against homosexuals" and ordered Qwelane to apologise to the gay community and to pay damages of R100,000 towards an LGBTI rights group.
Qwelane had the ruling rescinded on a technicality, but the SAHRC re-filed the charges. Qwelane then went on to challenge the constitutionality of sections of the Equality Act under which he was convicted on the basis that they infringe on his freedom of speech.