Year in review: Your biggest LGBTI news stories of 2016
What a year! 2016 was a mixed bag when it came to LGBTI issues; presenting our community with a 12-month-long roller coaster ride of heartwarming highs and desperate lows.
As in previous years, local issues, personalities and events tended to catch the attention of our readers. Below are Mambaonline's most read LGBTI news stories of 2016.
JOHANNESBURG PRIDE CAUSES CONTROVERSY ONCE AGAIN
Of all the (many) Pride events in South Africa, Johannesburg Pride seems to consistently generate the most controversy within our community. This year, its new location – the posh precinct of Melrose Arch – saw outraged activists protesting that the event had become elitist and exclusionary.
Despite the objections, a huge crowd attended the event (which was more party than Pride). It wasn't a good year for Soweto Pride which, for the first time in its 12 year history, was cancelled due to logistical and bureaucratic issues with the city's authorities.
• August: Major changes as Johannesburg Pride 2016 moves to Melrose Arch
• September: Shock as Soweto Pride postponed, threatened with shutdown
• October: Opinion: Finding a platform for Johannesburg Pride
• October: Johannesburg Pride venue controversy gets mainstream coverage
• October: Johannesburg Pride 2016 – Gallery 1
• October: Johannesburg Pride 2016 – Gallery 2
• November: Opinion: The hits and misses of Johannesburg Pride 2016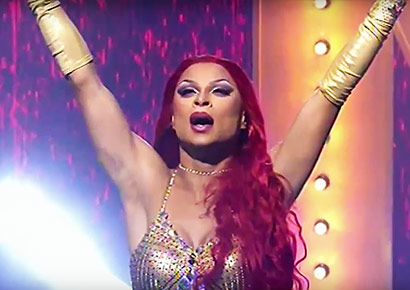 MANILA VON TEEZ HITS THE BIG TIME
It was a remarkable year for brilliant Cape Town drag artist Manila von Teez, who went mainstream in a big way.
It all started with her knockout appearance in the music video for The Kiffness track You Say You Love Me and exploded when she became a finalist in SA's Got Talent. Von Teez has even been noticed overseas and was recently included in The G-Listed's The Black LGBTQ Power 100 In 2016.
• July: We love it! Is this SA's gayest ever music video?
• October: Watch! Manila Von Teez brings drag magic to SA's Got Talent
• November: Watch: Manila von Teez takes 2nd place in SA's Got Talent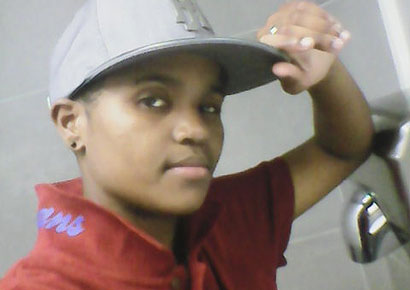 SOUTH AFRICA'S LGBTI HATE CRIME CRISIS CONTINUES
There was no end to the horror attacks and murders of LGBTI people in South Africa in 2016.
Despite promises from government to improve the situation and hard work by activists, the hatred against our community seemed to show no signs of abating. The articles below make for heartbreaking reading.
• January: Community to march over horror murder of lesbian matriculant
• January: Western Cape trans woman knifed to death by 15-year-old homophobe
• January: Shock as KZN youth tweets: "I'll definitely rape lesbians"
• April: Gay Vosloorus man raped with pole, knifed to death
• April: Ekurhuleni lesbian teen murdered on her birthday
• April: LGBT hate in SA: Limpopo gay man beaten and stabbed, then arrested
• June: Did this Joburg man just say that gays should be shot?
• June: 1.26 million Gautengers approve of violence against gays & lesbians
• July: "Kill the moffie," said attackers in Cape Town gay hate crime
• August: Horror of LGBT teen strangled to death in Potchefstroom
• September: Lesbian woman raped – two years after hate crime murder of her cousin
• October: Mpumalanga lesbian couple gang raped to be "taught to be women"
• December: 22-year-old Lesbian woman abducted and murdered in Khayelitsha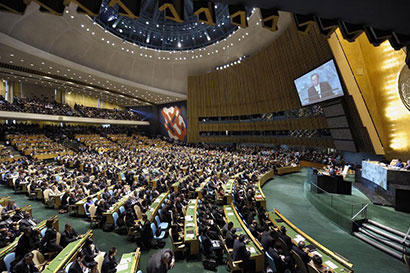 SA'S CONFUSED INTERNATIONAL STANCE ON LGBTI RIGHTS
On the international front, the South African government once again presented an inconsistent approach when it came to LGBTI rights.
At times the Department of International Relations took a progressive stance and at others baffled and frustrated us with its failure to uphold its constitutional obligations.
• June: Shameful! South Africa abstains in key UN LGBTI vote
• July: UN LGBTI resolution: Take several seats, ambassador!
• July: South Africa speaks at global LGBTI coalition launch but doesn't sign up
• July: Deputy Minister of Justice explains SA not joining LGBTI Coalition
• November: South Africa is working to sabotage UN LGBTI rights victory!
• November: Breaking: South Africa will NOT support move to block UN LGBTI watchdog
• November: SA called out for playing "double game" in anti-LGBTI moves at UN
• November: Victory as SA votes against African countries to block anti-LGBT move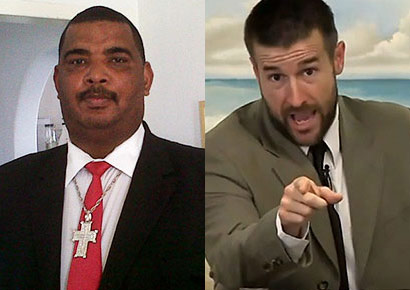 WE FOUGHT BACK (AND MOSTLY WON) AGAINST THE ANTI-GAY PASTORS
Possibly the biggest single LGBTI story this year in South Africa was the planned visit to the region by gay hate pastor Steven Anderson. The local community rose up in a rare unified front to oppose the trip and successfully put pressure on the South African and Botswana governments to stymie his plans. The story made headlines around the world.
Our very own religious hatemongers, Oscar Bougardt and Angus Buchan, also caused mayhem locally and internationally. Ultimately, the LGBTI community secured important victories against their religious hate.
• July: Bid to block American kill-gays preacher from South Africa
• August: Campaign to stop South African anti-gay preacher's Scotland trip
• August: Victory as Scottish church agrees to cancel SA anti-gay preacher's talk
• September: Minister accepts gay hate pastor petition, asks for dossier of evidence
• Victory! Gay hate pastor Steven Anderson banned from South Africa
• September: Breaking: Yes! He's being deported! Gay hate pastor drama in Botswana
• September: End of the bromance? SA's own gay hate pastor miffed by Anderson's deportation
• December: Pastors Anderson & Bougardt to open gay hate church in Cape Town
• December: Local and global homophobes gather in Cape Town to attack same-sex families
• December: Cape Town's The Westin hotel apologises for hosting anti-gay conference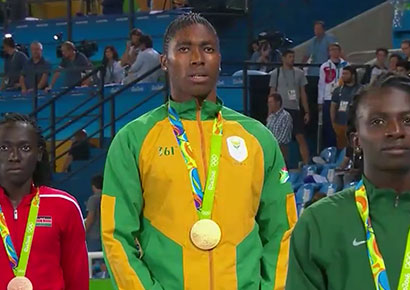 SA'S LGBTI SPORTSPEOPLE CAME TO THE FORE
Sport remains one of the most homophobic spheres of life around the world, and South Africa is no exception.
This year we saw some slow but important moves to fight back against homophobia in sport, such as the launch of the Jozi Cats rugby club, and major successes by LGBTI sportspeople, especially at the Olympic Games in Rio.
• May: Queen, fairy? Africa's first competitive gay rugby team wants you!
• July: This is Phuti Lekoloane – South Africa's first openly gay male footballer
• August: Yes! With Sunette Viljoen, SA's team LGBT wins first Rio medal
• August: Africa's 2nd LGBT medal! Caster Semenya takes gold in Rio
• August: Amazing! Record-breaking Team LGBT won 25 medals at Rio Olympics
• August: The big time! Caster Semenya appears inside the Chappies wrapper
• November: Wow! We're blown away by Caster's new ELLE cover
• December: Jozi Cats to kick off "Big Gay Rugby Tour" through South Africa
• December: Exclusive Books sponsors Jozi Cats gay rugby tour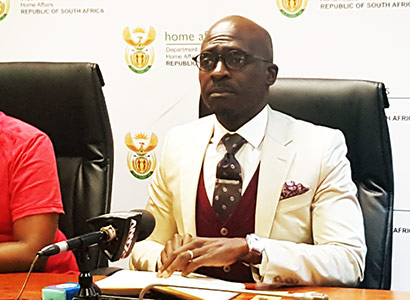 HOME AFFAIRS CONTINUED TO FAIL LGBTI SOUTH AFRICANS
Ten years after same-sex marriage became a reality in South Africa, the Department of Home Affairs continued to turn away same-sex couples who wished to marry at most of its offices. Transgender South Africans were also regularly denied services, including the right to amend their identity documents.
Minister Malusi Gigaba has promised change, but the results of this remain to be seen. Despite some hopeful moves (such as blocking Pastor Steven Anderson's entry into South Africa), overall, 2016 was another shameful year for Home Affairs.
• March: Lesbian & Gay Marriage in South Africa: Part 2 – Second Class Citizens
• June: Progress at last? Minister promises to make Home Affairs LGBTI friendly
• September: Shocking! Only 28% of Home Affairs offices will marry lesbian and gay couples
• September: Home Affairs shame: Forced by court to recognise trans man after 26 years!
• October: Malusi Gigaba makes history & marries same-sex couples at Pretoria Pride
• November: Marking ten years of same-sex marriage in South Africa
THE ORLANDO MASSACRE SHOCKED THE WORLD
The mass shooting in the Pulse nightclub in Orlando Florido was a shock to the global LGBTI community. It was hard to remember one standalone incident in which so many LGBTI people were killed.
In South Africa and around the world, people gathered to honour and pay their respects to the many victims. It still remains unclear what the motives of gunman Omar Mateen were.
• June 12: Gunman dead in Orlando gay nightclub shooting
• June 12: Gay club massacre death toll rises to 50 as shooter is identified
• June 13: Obama on Orlando LGBT massacre: "This was more than a nightclub"
• June 13: President Zuma sends condolences to the US following Orlando tragedy
• June 14: South Africa's LGBTI community condemns Orlando massacre
• June 17: Hundreds of South Africans gather to remember Orlando victims
• June 21: Orlando: Flood the world with unicorns
OTHER MOST READ STORIES OF 2016
• March: Questions asked about "no whites allowed" Cape Town queer event
• March: Here are the South African gay ads they don't want you to see
• April: "Blessings" page now includes gays and lesbians
• May: Jacaranda's Rian van Heerden slammed in gays and God furore
• May: An open letter to Mafikizolo's Theo about gay rumours
• June: Miss Gay Jozi 2016 gallery
• June: South African actor comes out in response to Orlando killings
• June: No, Julius Malema is not planning to kill gay people
• June: South Africa's gay bears strike back
• July: Actor Oros Mampofu admits fears about his gay TV kiss
• July: Here's the gay dad and son featured in Jet Stores ad campaign
• September: Here's the new Joburg biker group that's unapologetically gay