That kiss! We're in love with Ryan Reynolds all over again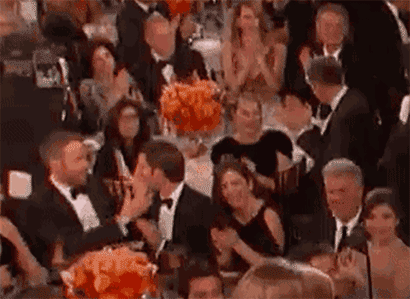 It was a superhero smoochfest as Ryan Reynolds shared a kiss with Andrew Garfield at Sunday's Golden Globe awards.
Reynolds, who plays Deadpool, reached out for some emotional support from Garfield, who previously played Spiderman, after he failed to win the best actor in a musical or comedy award.
The two men were spotted exchanged the lingering kiss on the mouth at their table, to the delight of Reynolds' wife Blake Lively, while the winner, Ryan Gosling (La La Land), walked to the stage to collect his prize.
It also didn't go well for Garfield, who lost out on his best actor in a drama nomination for Hacksaw Ridge to Casey Affleck (Manchester by the Sea).
Garfield's ex-girlfriend, Emma Stone, later expressed her surprise to Entertainment Tonight when she and Gosling were shown the kiss.
"What? They did not kiss each other. They did?" she asked with a laugh. Gosling commented, "I'm happy for them, honestly, you know? Good for them," while Stone added "I'm happy for them, too."
Just days earlier, Reynolds told Variety that he would be open to Deadpool (who has been depicted as pansexual in the comics) having a boyfriend in one of the future films.
"What love is to Deadpool may not be what love is to Batman or someone else," Reynolds said. "I think that could be played up more. He's an outsider in every way, shape, and form."