IBM adapts its iconic logo to represent LGBT inclusion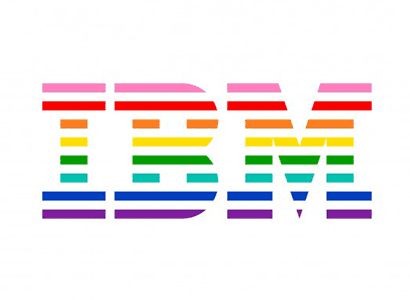 IBM, the technology multinational, has unveiled a new LGBT affirming version of its instantly recognisable logo.
The symbol consists of the company's iconic 8-bar logo overlaid with the rainbow flag; an international representation of the LGBT community.
In a blog post last week, Lindsay-Rae McIntyre, Chief Diversity Officer, said that the symbol "will represent IBM's ongoing push for diversity, acceptance, inclusion and equal opportunity".
McIntyre noted that the company was one of the first to include sexual orientation as part of its Equal Opportunity policy, and that it extended domestic partner benefits to gay and lesbian employees in the US almost 20 years ago.
"And our progress has not stopped. We now offer a variety of benefits in 53 countries to same-gender domestic partners or spouses," she said. "This year alone we announced the launch of same-gender partner benefits in 11 countries."
The logo will be used in conjunction with diversity focused IBM programmes and initiatives, and also in the company's pro-diversity advocacy.
The colors of the IBM rainbow logo design were adopted from the original rainbow flag designed in 1978 by artist Gilbert Baker and commissioned by civic and cultural icon, Harvey Milk, shortly before his assassination.
"We proudly pay tribute to Baker's original vision in the adaptation of our corporate logo as a way to demonstrate our solidarity, support and continued commitment to the rights of the LGBT community," said McIntyre.
IBM was founded in 1911 and today has operations in over 170 countries with nearly 380,000 employees.