I am what I am! It's time for Cape Town Pride 2017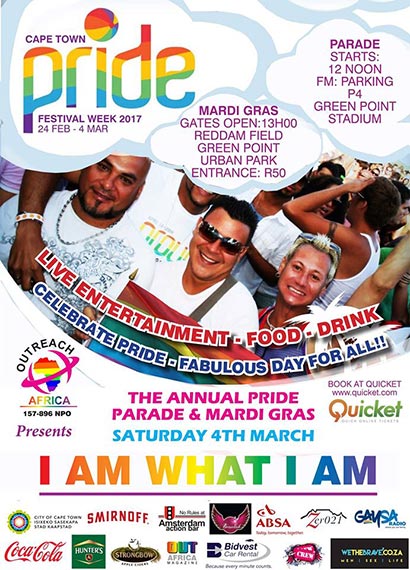 The Mother City is gearing up for its annual Cape Town Pride festivities from the 24th of February, culminating with the parade and mardi gras on the 4th of March.
This year's theme is 'I am what I am'. It, explain the organisers, "celebrates the individuality of every member of the community and says that we can all revel in our diversity but still be from one LGBTIQA community".
Cape Town Pride 2017 has a bumper festival planned, with events such as the Pink Party; Mr and Miss Cape Town Pride; Kasi Pre-Pride Party in Khayelitsha; Mens Night; Women's Space; Book Evening; Pride Comedy Night; Pride Karaoke; Poetry and Art Evening; and the Parade and Mardi Gras.
The parade starts at 12 noon on Saturday 4th March (park and meet at P4, Green Point Stadium). There are 15 floats and walking groups scheduled to take part, with the Dykes On Bikes leading the procession. The floats will include a Priscilla float, and one from WeTheBrave.
For the post-parade mardi gras, Pride returns to Redeem Field in the lush Green Point Urban Park. Gates open at 13h00 and entrance is R50.
This year, Cape Town Pride has organised, along with WeTheBrave, three large buses that will be transporting members of the community from Khayelitsha, Guguletho and Mitchells Plain.
The venue will have ample bars and food trucks to cater for everyone's tastes. The stage will feature entertainment such as Manila von Teez, Latheem Gabriel, 3 Tons of Fun, Tiara Skye and 3D, DJ Chad, DJ Bash, DJ Khylie and DJ Groovy Q.
Alongside a corporate presence from ABSA, various NGOs and NPOs will be handing out materials, while Health4Men will be offering HIV testing and counselling.
"This wouldn't have been possible without the help of the City of Cape Town and our volunteers," said Cape Town Pride's Matthew Van As.
For more information about Cape Town Pride and details of specific events, visit the Facebook page.