"I've received threatening messages": Nakhane Touré on The Wound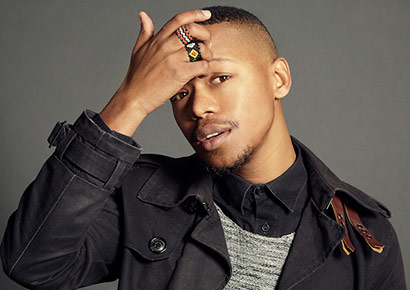 Nakhane Touré has in the past few weeks gone from acclaimed musician and author to rising international film star, thanks to his lead role in the new queer South African film, The Wound.
Directed by John Trengove, and co-written with Thando Mgqolozana and Malusi Bengu, it tells the story of Xolani (played by Touré), a lonely closeted factory worker who joins the men of his community in the mountains of the Eastern Cape to initiate a group of teenage boys into manhood.
The Wound premiered last month at the Sundance Film Festival to critical acclaim, in large part focused on Touré's performance. In South Africa, news of the film has been met with both anticipation and criticism. Some have called it disrespectful because of its exploration of the initiation process, which has been traditionally shrouded in secrecy.
The openly gay Touré is no stranger to controversy. Both his SAMA-winning music and his novel Piggy Boy's Blues addressed queer relationships and issues. He spoke to Mambaonline about making The Wound and how he's already received threatening homophobic messages over its release.
Have you been surprised at the amazingly positive response to your performance in the film?
Completely. I strive to do everything I do with excellence, otherwise there's no point. But this was so new to me that being okay was good enough for me. I studied screen acting and film music composition, but if I'm honest I paid more attention to the music than I did to the acting. I had never ever done it professionally before. A few months before we started shooting – when I was confirmed to play the role – I excitedly called my friend to share the news. She was very excited, but had some warning/advice for me: "Don't suck. Whatever you do, don't suck. Because if you do, I'll laugh at you". Those words. God, those words. I laughed then, but took them very seriously.
Did you ever plan to embark on acting professionally or was this opportunity an unexpected one?
It was an unexpected one. Initially the director had contacted me to write the score for the film, and I arrived at the meeting with lots of ideas. On our second meeting, he proposed that I audition for the role of Xolani. I 'Hmmd and Aaahd' and he said that well if I wasn't good, he would simply not cast me. I felt I had nothing to lose. I did the necessary preparations – I got the clothes that I thought the character would wear to walk around in, I visited taverns that I felt he would have visited and I watched people that were similar to him – how they sat, how they smoked, how they walked and talked, how they held a conversation, or didn't – I went to the audition and the many call backs and finally got the role.
What was the most challenging aspect of playing the character?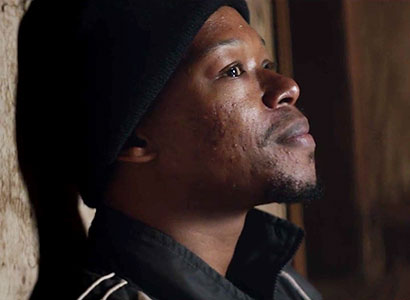 Before we did the rehearsals, John and I workshopped the character a bit. He said: "Imagine you're living in a world where everything that you are is loved and accepted completely. Do you see it and feel it?" I nodded my head, smiling. Then he said, "Now take all that goodness, put it in a box, make it as small as possible and keep it inside you. That's where you are as a character". I was devastated. I had to go back a few years to when I loathed myself. I had to revisit those feelings of guilt. And I thought I'd left that life behind. That was the hardest part for me: constantly reminding myself that I'm an abomination and that I hate myself.
That's pretty intense…
During the shoot I gave my all to get this character right, sometimes to the detriment of my physical and mental health. When I came back home, my partner saw certain changes in me, and he knew that those traits were not mine, but my character's. That's how much I committed to it.
Does being umXhosa yourself give you particular insight and depth to the issues at play?
Of course. I've gone through the initiation. I know it and understand it completely. It's my culture. I treasure it.
Do you think The Wound shares any similar themes with your other work?
Maybe not in what the story is about, but in the finer details. The film is sometimes concerned – if you look closely enough – with identity, and maybe the understanding of the self in a community that doesn't necessarily agree with that self. I've dealt with that all my life, as most queer people have. It's in all my work.
What was the highlight of the premiere at Sundance for you? What will stick in our mind?
It's all still a blur, and I know that when I get home, the picture will become sharper and sharper. What I do remember is the feeling. I arrived and thought, "Ha! Okay. You're here because a film that you're the lead actor in, is in competition at Sundance. Enjoy this, Nakhane." And I did. I played two gigs at the ASCAP Music Cafe to wonderful audiences. I met incredible people and most of all I told myself to never forget that moment because it might never happen again.
How do you respond to criticism back home that the film is exploiting something that should be kept private and sacred?
I'd disagree. And I have received a lot of threatening and violent messages that almost always end with "You fucking faggot". I don't think the culture is exploited. I think it's treated with respect and integrity. On the other hand, as a person who belongs to the culture (and there are a lot of us and we are all quite different) and who participates in the culture, there are things that need to be interrogated. Tradition and culture evolves, nothing is stagnant. Also, no culture is perfect. It's with this interrogation that we better ourselves. We need to address our patriarchy. We need to address our homophobia. Why am I afraid when I go home? Why do I need to be in Johannesburg (in certain places) to feel safe? There's nothing I love more than being umXhosa. There's nothing I'm more proud of.
There's also been criticism that the director is a white man and that he's the wrong person to tell this story.
I understand those reservations. One of the reasons that I took part in this project was that one of the co-writers was one of my favourite writers: Thando Mgqolozana. I trusted the work because I trust his judgement and his work. John Trengove was also incredibly collaborative, whether it came to the story or the characters.
Were you at all nervous about taking part in a project that could prove to be highly controversial?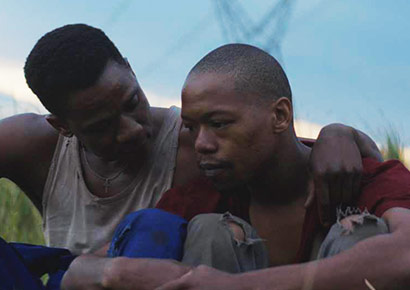 I've been saying that maybe I lack some level of self-preservation, because I wasn't nervous or scared. I was actually excited. I read the script and really wanted to be part of the film. It was a subject I was also interested in writing about years ago, and now I could finally be part of the dialogue. This has always been the case with me since I started creating art. It had to have honesty. Otherwise, what the fuck am I doing being part of it? I'm not creating to pass time (mine or my audience), I'm creating to make sense of everything in this fucked up and beautiful world. Art has always been what comforted me. And that wasn't always comfortable.
The representation of homosexuality and masculinity in a South African context has been pretty one dimensional. Do you think this film plays a role in deepening that?
I do. The three lead characters all embody different traits of masculinity and same-sex desire, and of the acceptance of that desire. There are two characters who are at the two ends of the spectrum, and one right in the middle. There's variety, there's nuance. Our society is heteronormative, and when they do allow a queer person to speak it's normally because they're entertaining or are what they want us to be: "fabulous, fierce, quirky, a joke". And there's nothing wrong with those traits, but we are more than that. Fuck that simplification. I'm not your entertainment, I'm not here to be the butt of your jokes. I'm your equal. And I will not smile when you're treating me like shit.
Was this film a one-off or is this the start of an ongoing acting career?
I'm not too sure to be honest with you. I know that if or when I take another role it will have to be completely different to the character I played in The Wound. I try not to repeat myself in my work. I also feel like I have the luxury to choose what I want to get involved in when it comes to cinema, so we will see.
What are you most looking forward to about the local release of The Wound?
As much as the film can be described as universal, it's very specific to South Africa. It's very local. What is in the film could never have been written anywhere else. So it belongs here. I'm looking forward to the dialogue. I'm looking forward to the debate. People have the right to their feelings, and I'm interested in what they are.
The Wound will have its South African première at the Durban International Film Festival in June.