Charlize Theron wows with steamy lesbian sex scene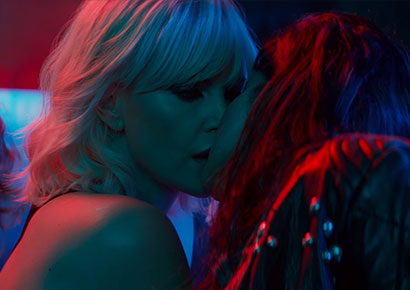 Benoni will never be the same again! Our very own Charlize Theron is getting girls hot under the collar with her sizzling new lesbian sex scene.
The South African born star is the lead in the just-premiered spy action thriller Atomic Blonde. Set in the late 1980s, Theron plays British superspy Lorraine Broughton, who is sent to Berlin to dispatch a number of nasty villians.
In the course of her super-violent mission, she meets a French spy (Sofia Boutella), who – as you'll see in the trailer below – becomes her lover.
Reviews have praised Theron for her commitment to the role. "She absolutely kills it," proclaims Verge, while Variety says she proves that she is more than an equal to ionic male action stars such as Schwarzenegger and Stallone.
The film's gorgeously stylised visuals and the intense action scenes have also been applauded but most critics say it's all a bit shallow and one dimensional (then again it is based on a graphic novel).
"Seducing her, it's very easy, she's gorgeous!" Theron told Canada's Entertainment Tonight about Boutella, her on-screen lover.
"I can't imagine anyone else doing it. She's a dancer, I'm a dancer. So, we're a little bit like – you know dancers are like… Being naked is nothing. We just wanted it to be real and cool."
Theron has previously played LGBT characters, including the Oscar winning role of serial killer Aileen Wuornos in Monster.
In 2012, Theron was honoured by America's largest LGBT rights group, the Human Rights Campaign, for being a vocal ally to the LGBT community. "I will always be your cheerleader and I will always be your friend," she said at the time.
The actor further showed her support for the LGBT community when she promised not to get married until marriage equality became a reality in the USA. She is also a passionate advocate in the battle against HIV and last year powerfully called for an end to "sexism, racism, poverty and homophobia" at the International Aids Conference in Durban.
Atomic Blonde is set for a South African cinema release on 25 August. Watch the trailer below.