"SA's John Waters" is back with new queer film Izinyoka
Stanimir Stoykov, the Joburg filmmaker who's known for his often outrageous short films, will be debuting his new film Izinyoka on 26 March.
The 21-minute comedy is about a bogus church, run by a charismatic, flamboyant and ruthless business woman and her "Ben 10" partner.
Izinyoka takes a closer look at the extraordinary trend of charismatic "churches" in South African and their unusual practises, like the use of snakes and Doom as proof of faith.
Doctor Pastor Sheila (played by Nomsa Buthelezi from the current smash hit TV series Lockdown and Isibaya) and her "toy boy" partner (played by Luzuko Nteleko, who is best known as smooth talking Lwazi from Muvhango and currently star of SABC 1's award winning Tempy Pushas) run a charismatic type church known as The Sheila Ministry.
Together they produce a television program, The Sheila Hour, from their production company Sheila TV. It's clear from the beginning that it is not actually a real church, but rather a money making business. Using her "celebrity" status and her TV presence, Sheila sells a "miracle" face cream, that's clinically tested on snakes (izinyoka).
One day, during a live broadcast of The Sheila Hour, Sheila's long lost child Maziya (played by new comer Maziya Sibeko) arrives unexpectedly at the TV studios. Maziya is now living as a transgender woman. She wants money and attempts to blackmail her mother as she is half way through gender reorientation surgery, but cannot afford the completion of the procedure.
She threatens to expose her in the media for being a greedy liar and a fake. Sheila is shocked and at first refuses to sponsor her child. Will Maziya manage to extort money from her famous mother?
The film also features fun guest appearances from multi award winning actors Robert Whitehead (best known as Barker fro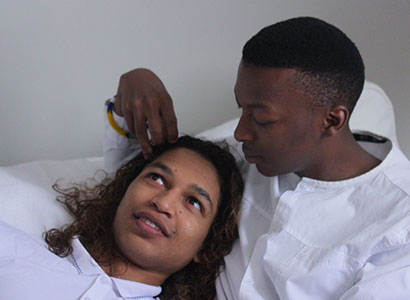 m Isisdingo) and Patricia Boyer (known to SA TV audiences as crazy Sue from Lockdown).
"I became interested in these kind of churches when I was a university student and a friend of mine started attending one of them in the hope that his homosexuality will be cured," says the Bulgarian born Stoykov.
The filmmaker's work, which has been screened at festivals around the world, often both shocks and entertains, and uses satire to parody and spoof cinema and society.
Izinyoka will have its first (free) public screening at the Bioscope Cinema at the Maboneng Precinct on Sunday the 26th of March at 11:30 am. Seating is limited, so come early! Cast and crew will be attending.
Watch a teaser below.
Izinyoka Teaser from stanimir stoykov on Vimeo.