Katy Perry: I did more than kiss a girl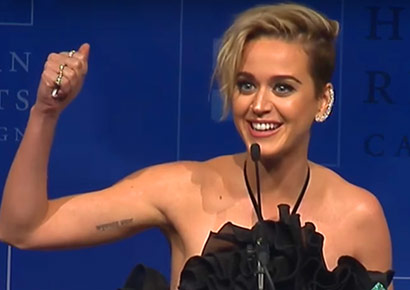 Pop star Katy Perry has opened up about her sexuality and how she experienced Christian efforts to "pray the gay away" as a teenager.
On Saturday, the singer, real name Katheryn Elizabeth Hudson, was the recipient of the Human Rights Campaign (HRC) National Equality Award at its 2017 Los Angeles Gala Dinner.
"I speak my truths and I paint my fantasies into these little bite-sized pop songs, for instance: I kissed a girl and I liked it," she said while accepting the award.
"Truth be told, I did more than that. But how was I going to reconcile that with the gospel-singing girl raised in youth groups that were pro-conversion camps?
"What I did know was that I was curious and even then I knew sexuality wasn't as black and white as this dress.
"Honestly, I haven't always gotten it right, but in 2008 when that song came out, I knew that I started a conversation that a lot of the world seemed curious enough to sing along to."
Perry's parents are Christian pastors and she grew up within a deeply religious and conservative environment.
She said that as a child "homosexuality was synonymous with the word 'abomination' and 'Hell'," and that during "most of my unconscious adolescence, I prayed the gay away at my Jesus camps".
Perry explained that when she started singing she finally met openly gay and lesbian people. "These people were nothing like I'd been taught to fear. They were the most free, strong, kind and inclusive people I had ever met. … Oh my goddess, what a revelation – and not the last chapter of the Bible.
"Suffice to say, it's been a long road for me and I'm sure a long road for many of you out there. I know it doesn't always feel safe to live out who you are, but here's the thing, though: I would not have chosen a different road.
"You don't get to choose your family, but you can choose your tribe," she added.
Perry, 32, was honoured by the HRC as an ally who has used her "powerful voice and international platform to speak out for LGBTQ equality" especially influencing young people with her "message of inclusion and equality".
She first found global fame in 2008 with the release of her huge hit single I Kissed a Girl. Not only has Perry gone on to sell more than 100 million records, but she has worked with and supported organisations such as LGBTQ youth suicide support group The Trevor Project, the It Gets Better Project and the Elton John Aids Foundation.