Jozi clubbing: Therapy's Limited Session with UK DJ Paul Heron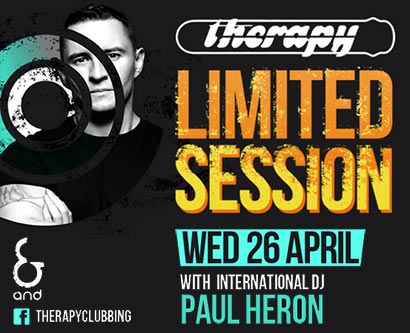 The iconic and legendary local "queer dance party" brand, Therapy, takes it to the next level for another tech-house assault on the dance floor on Wednesday, 26 April (the next day is a public holiday).
Therapy's Limited Session – in association with Red Bull Studio and MambaOnline.com – will headline internationally renowned UK DJ Paul Heron, a firm favourite on the international party circuit, at AND nightclub in Johannesburg.
This new event for the April holiday season follows hot on the heels of Therapy's Love Injection-party, which was proclaimed "Party of the Year" by MambaOnline.com in 2016.
In addition to treating partygoers with the special delight of an international guest DJ – the line-up for the event on 26 April will also feature Therapy creator and one of South Africa's most sought-after DJs, Stuart Hillary. A bevy of other supporting DJs will make this yet another Therapy extravaganza to inspire polished heels, bouncy dancing shoes or whatever you prefer to wear with pure glistening anticipation.
Paul Heron is flying in from the UK for this special Therapy event. He tours the world to play at the best-of-the-best events, boasting residencies at some of the world's top venues. Paul Herron has taken control of the decks alongside the likes of David Guetta, Offer Nissim, Frankie Knuckles, Boy George, Fatboyslim (Norman Cook), Peter Rauhoffer, Seamus Haji, Mark Doyle (Hed Kandi), Pete Tong, Judge Jules and Sonique – to name but a handful. He has also shared event stages with most notably Mariah Carey, Lady Ga Ga, Gloria Gaynor and Barbra Tucker and has played for celebrities such as Elton John, Grace Jones, Jake Shears & David La Chapelle.
Therapy's partnership with Red Bull Studio introduces a new venue for this high-profile event of distinguished quality.
"We are still basking in the glory of Therapy's hugely successful Love Injection 20th anniversary party last November, and this time round we continue to evolve with each new rhythm. Having Red Bull Studio onboard, we are confident that AND venue will add a tasteful and cutting-edge new dimension to the party energy, along with Paul Heron from the UK, surpassing the demands of our most tasteful party patrons. AND is acclaimed as a world-class club, and also boasts one of the best sound systems in South Africa. Fierce is the keyword!" states Therapy founder Stuart Hillary.
"As South Africa's top gay news and lifestyle medium we're excited to once again be part of another unique Therapy experience that's all about celebrating freedom, diversity and self-expression," comment Luiz De Barros, Editor of MambaOnline.com.
Alex Kidd from Cape Town returns to play at Therapy after this piece of DJ "eye-candy" enticed the partygoers at previous Therapy events. He is a DJ, producer, remixer and musician, who has been an industry professional since 1988. He was born in Munich, Germany and underground techno tugged at his heartstrings decades ago, remaining loyal to this genre ever since.
Having graced the dancefloors of all the top clubs and festivals around the world, he has had the honour of playing at Pacha, Glastonbury, Fabric, TLV, Homan 17 and the Dome Liquid, to name but a few. Alex recently joined forces with Mr Yoshi Moto in Dallas, Texas and their Activesessions.FM radio team, ahead of his US tour later this year.
Born a Scot but now firmly a Londoner, Paul Heron's name has become synonymous with quality deep, dirty, pumping, funky, tribal and uplifting progressive house. Living by the musical mantra 'dirty, sexy, fun', he draws upon his 15,000 plus records to create club specific sets that have secured him residencies in the London's finest clubs such as Fabric's legendary DPTM, Discotech (The End), Action, Juicy, Crash, Beyond, A.M, Orange and Trade @ Ministry of sound, alongside guesting at major nights like Wildfruit, Coco Latte, Universe', Pacha and various major international events.
A graduate of the London College of Fashion, Paul's talents are by no means limited to music, with success in art, fashion and photography; Paul has played at parties for 'haute couture' labels such as Dior and designed catwalk soundscapes for many of the world's leading fashion brands.
Therapy presents LIMITED SESSION featuring international DJ PAUL HERON (UK)
(Brought to you by Red Bull Studio and Mambaonline.com)
Date: Wednesday 26 April (Thursday is a public holiday)
Venue: AND Nightclub, 39a Gwi Gwi Mrwebi Street, Newtown, Johannesburg (next to Carfax)
Time: 9PM – 4AM
Tickets: R 120 (limited; jump the queue) from Nutickets / R 150 at the door on the night
Right of admission reserved
No under 18s
No Attitudes – Therapy is a LGBTI event and maintains an open-minded party policy, which shows respect for all partygoers, no matter gender, sexual orientation, race or culture.
Peace Love Unity Respect
AND nightclub has a strict "no cameras and phones" policy; phone usage is allowed, but not on the dance floor – "phones off, party on!"
DJ Line-Up:
Paul Alex
Stuart Hillary
Paul Heron
Alex Kidd