It's all systems go for Pretoria LGBTQ+ Pride 2017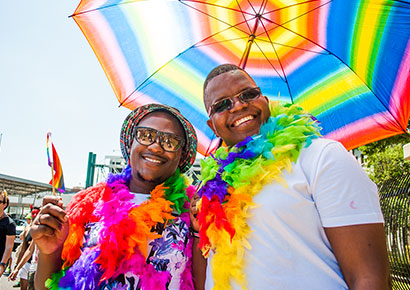 Preparations are well underway for Pretoria Pride 2017, which will be held on Saturday 7 October at the Centurion Rugby Club.
The theme is "Carnival" and the organisers hope it will inspire participants to dress extravagantly, "so as to take over the streets of the city".
Now in its fifth year, the annual event has become one of the most well-attended Prides in Africa.
Pretoria Pride will this year be extended from 9h00 until 21h00, and the organising committee is planning to have some big name artists on the lineup. They acknowledged that were previously some problems with the stage and sound, which they are working to solve.
The stage is available for anyone who wants to participate and applications to perform will soon be open on a new website which is under development. Stall applications will also open soon.
The committee said in a statement that Pretoria Tswhane Pride has been registered as a non-profit company. "Since it does not have any cash sponsors, it will need to raise around a quarter of a million rand to host the event," they explained.
While the bar services contribute towards a portion of the costs, the organisers said this year there will be a R20 donation to enter the Pride grounds in order to help fund the event. As always, tickets to the exclusive Clubhouse area will be on sale for R100. The parade through the streets is free for all to attend.
Events are planned in the run-up to the Pride to raise additional funds. These include a Mr and Miss Pretoria Pride pageant, an international flag project, an art project and a film festival. There will also be a series of fund-raising GAT Parties, with the first one planned for 29 July.
As the official media sponsor, GaySA Radio will play a large part in the event, hosting the entertainment on stage, as well as running an on-air campaign to raise awareness for the Pride and its various activities. GaySA Radio will introduce a competition for an official Pride song, details of which will be announced soon.
More sponsors are needed and anybody who can contribute to the success of the event will be welcomed. The event has a number of needs, like printing, extra sound equipment, water, tents and other services, which can be sponsored in kind, in return for exposure to the thousands expected to attend the festivities. Sponsors will receive free airtime on GaySA Radio.
You too can help organise the event. A voluntary organising committee meets once a month and the next meeting will take place on 7 June. This committee is open to everybody who can make a contribution or who wants a say.
Contact the convener of Pretoria Pride, Bruce Walker, on email brucewalker@iburst.co.za or GaySA Radio Station Manager Hendrik Baird at hendrik@gaysaradio.co.za.
"It's time for the community to pull together so as to make this the best Pride ever and send a loud and clear message that the LGBTQ+ community is stronger and more unified than ever as we celebrate our freedom," said the committee.