Moonlight stars honour "misfits" in best kiss win at MTV Awards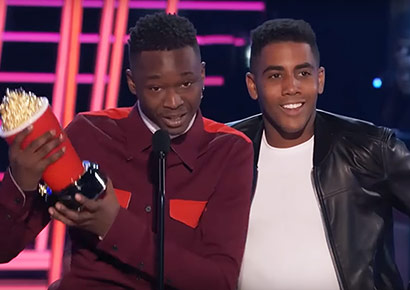 Two of the stars of Moonlight have dedicated their best kiss win at the MTV Movie & TV Awards on Sunday to those who don't always fit in.
Ashton Sanders, 21, and Jharrel Jerome, 19, who shared a same-sex kiss in the Oscar winning film as their characters Chiron and Kevin, took to the stage to accept the award.
The intimate on-screen moment saw the characters sharing a kiss on the beach in a powerful and touching exploration of teenage sexual exploration.
"On a real note, I think it is safe to say that it is okay for us young performers, especially us minority performers, to step out of the box," said Jerome in their acceptance speech.
"It's okay for us to step out of the box and do whatever it takes to tell the story and whatever it takes to make the change," he added. "And so this award is for that. It's for us artists who are out there, who need to do whatever it takes to get people to wake up."
Sanders went on to say: "This award is bigger than Jharrel and I. This represents more than a kiss. This is for those who feel like the others, the misfits — this represents us."
Moonlight chronicles the life of a young black man in Miami, from childhood to adulthood, as he comes to grips with his sexuality and his place in the world.
The film is divided into three chapters and the main character, Chiron, is played by three actors in different stages of his life. Its cast in particular has been lauded for their performances.
In February, Moonlight became the first LGBTQ film to win best picture at the Oscars. It also won for best adapted screenplay (Barry Jenkins and Alvin McCraney) and for best supporting actor for Mahershala Ali.