Feather Awards launches 2017 national LGBTI Dialogues in Potch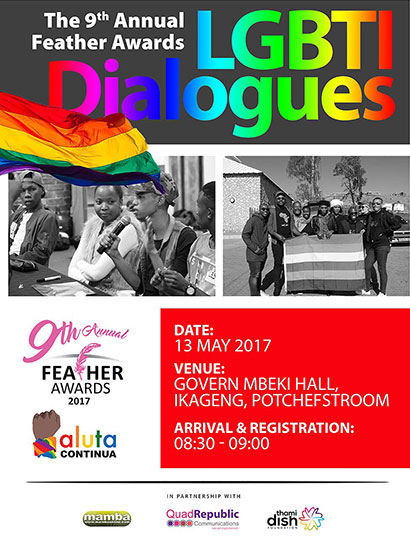 The annual Feather Awards National LGBTI Dialogues are back and the first leg is in Potchefstroom on Saturday 13 May.
Marking its 9th year, the Feather Awards is ready to kick start its dialogues across the country in all nine provinces.
The events are expected to attract around 200 attendees from each of the different communities and from political spaces.
The first stop for the 2017 National LGBTI Dialogues will be in the North West, at Govern Mbeki Hall in Potchefstroom.
The dialogues, which received a hugely positive response last year, aim to communicate positive messages about LGBTI people, educate broader society and empower the LGBTI community.
This year, the Feathers will provide an opportunity for the LGBTI community to express and engage with government departments; expressing their frustrations around community issues.
The Feather Awards continues to grow in its role as a voice for the socially marginalised in society. Its dialogues have contributed positively in the lives of the LGBTI community, through educating and creating platforms for conversations.
"I am extremely proud of the work we are doing through the Feathers. We have been able to take one event and create a vehicle for discussion, for change and we hope it will yield results," said Thami Kotlolo, Founder and Creative Director of the awards.
"Our theme for this year, 'A luta continua', speaks to the issues that we continue to face daily such as hate crimes and inequality – the struggle continues."
Kotlolo added: "We thank everyone for the support we have enjoyed not just from the LGBTI community but broader society and we are glad that these dialogues have bridged the gap in knowledge and conversation."
Mambaonline is proud to support the Feather Awards' series of dialogues as a valuable and ground-breaking initiative.
The Feather Awards, held later in the year, was created as a light-hearted celebration of high-profile LGBTI and other individuals who have inspired, scandalised and amused South Africa's LGBTI community. It has evolved to increasingly focus on acknowledging LGBTI figures and achievers and highlighting activists from South Africa and the continent.
The line up for the Northwest dialogue will include Amstel Maboe who has been an advocate on LGBTI issues and has also been in the entertainment industry for a decade.
Feather Awards Potchefstroom Dialogue
Date: Saturday 13 May
Venue: Govern Mbeki Hall (Mahikeng)
Time: 11 am
Facilitator: Lara Kruger