Finally free | Meet Chelsea Manning in full colour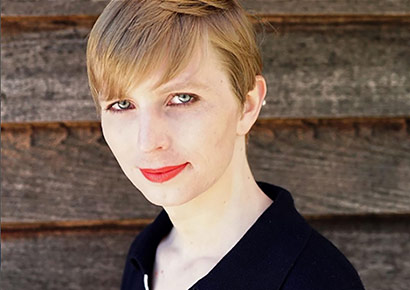 Chelsea Manning has celebrated her release from prison with the first full colour picture of herself as a proudly transgender woman.
On Thursday, Manning posted the photographic portrait on Instagram, just a day after being set free. She looked radiant with a stylish strawberry blonde pixie cut.
Manning commented alongside the picture: "Okay, so here I am everyone!!"
She earlier said in a statement upon her release: "I am looking forward to so much! Whatever is ahead of me is far more important than the past. I'm figuring things out right now—which is exciting, awkward, fun, and all new for me."
The only previously known picture of Manning as her true self was a grainy black and white image.
Human rights groups have widely welcomed Manning's release on the International Day Against Homophobia, Transphobia and Biphobia.
Manning, 29, who leaked classified government documents revealing cover ups by the US military in Iraq and Afghanistan, was arrested in May 2010 and sentenced to 35 years in prison in August 2013 – said to be the longest such sentence ever imposed in the US.
After being sentenced, Manning announced that she would no longer identify as Bradley but as a woman, Chelsea. She was nevertheless imprisoned in a men's facility and struggled to obtain gender-affirming medical and other treatment. She attempted suicide a number of times and was further punished by being sent into solitary confinement.
In January, on his last day in office, former President Obama commuted Manning's sentence to a total of seven years confinement, leading to her release this week.
On Wednesday, Human Rights Watch slammed the "maltreatment Manning suffered as a transgender woman in a military prison for men". It also criticised America's Espionage Act, under which she was jailed. The group said that the US authorities are increasingly using the law to punish whistleblowers who leak classified information to the media, and not to foreign governments as it was originally intended.
"Those prosecuted under this law still cannot argue their actions were motivated by the public interest in their defence," noted Max Anderson, coordinator at Human Rights Watch's general counsel's office. "Nor does the Espionage Act require prosecutors to prove national security was harmed as a result of the leak, much less that the harm outweighed the benefit of the public's right to know."
He added: "Manning's story should serve as a wakeup call for governments to reform whistleblower protections and fulfil their human rights obligations toward incarcerated transgender people."