Miss Drag South Africa reveals its finalists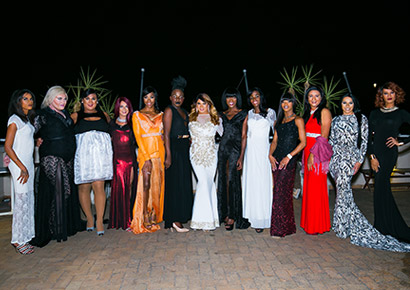 Miss Drag South Africa has revealed the 12 finalists who will be vying for the new national pageant title on Saturday, 8 July at the Stellenbosch Town Hall, in the Western Cape.
The finalists, in no particular order, are: Camille Von Zuush (Western Cape); Muzi Zuma (Kwa-Zulu Natal); Kem Blank (Free State); Tiana La Vida (Western Cape); Somizy Sincwala (Gauteng); Vuyokazi Mbutho (Free State); Maxine Wild (Western Cape); Katya Mendez (Eastern Cape); Zilin Ayoki (Western Cape), Kattia Lemar (Kwa-Zulu Natal), Chante Herries (Western Cape) and Blu Canoe (Gauteng).
Last month, these beauties travelled from different corners of Mzanzi to join pageant director Enigma von Hamburg and her EvH Empire Team for a 'Glam Camp' in Stellenbosch. The weekend kicked off with a welcome "dinner under the stars" and was followed by a jam-packed programme with activities such as interviews, video and a photo shoots, a sash ceremony and the talent segment of the pageant.
The inaugural black tie pageant event is aimed at celebrating glamour and entertainment but will also highlight issues faced by the LGBTIQA+ community, said von Hamburg.
"Miss Drag South Africa is much more than just a beauty pageant or modelling competition, as each finalist has to initiate a 'Drag With a Purpose Project' to advocate for the advancement of LGBTIQA+ rights and drag culture, serve as agents for change and uplift their communities by serving as positive role models," she explained.
Von Hamburg said the pageant will be a vehicle "to educate our communities to respect and show tolerance towards people from diverse sexual orientation, cultural, religious and racial backgrounds".
She added: "I am of the opinion that deconstructing and breaking down the barriers of shame and intolerance are important steps in creating a just and equitable society."
Tickets cost R350 per person and include table seating with finger snacks and beverages. A cash-bar will also be available.
You can purchase tickets via Quicket or directly by contacting the pageant director. Various payment options and arrangements are available.
Should you wish to become a sponsor, purchase a ticket or have any queries relating to the event, please contact von Hamburg on 078 515 9645 or email missdragsouthafrica@evhempire.co.za.