Limpopo Pride reaches out to the community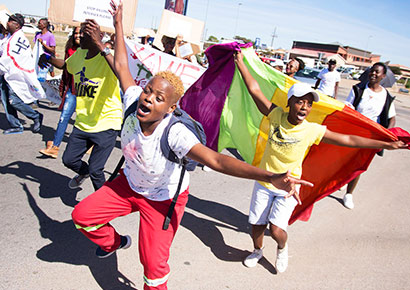 The sixth annual Limpopo Pride March called on residents and passersby in Polokwane to help bring an end to the killing of LGBTI people.
Around 100 marchers took part in the lively demonstration near the Seshego Stadium on Saturday.
The participants sang and chanted slogans while holding up placards calling for equality and for an end to hate crimes against sexual and gender minorities.
After the march, the group gathered at the stadium for a picnic and entertainment. HIV testing and counselling was also on offer, courtesy of Health4Men.
Organiser Cindy Maotoana, Director at Limpopo LGBTI Proudly Out, gave a short speech, after which a moment of silence was held for the fallen and surviving victims of LGBTI hate crimes.
Maotoana said the event aimed to make the LGBTI community more visible in the area. She explained that this was why this year's march took place in a residential area, instead of the city centre.
"We wanted to tell the community to stop the killing, especially the killing of lesbians," she told Mambaonline, adding that the event was generally well received by residents.
"Most people were coming out of their houses to see and were asking what it was all about, which is what we wanted; to raise awareness."
Maotoana thanked the Polokwane Municipality for offering the stadium as a venue for the Pride and praised the police and traffic authorities for their support.
The day before, Limpopo LGBTI Proudly Out marched to the Limpopo Premiere's office where it delivered a memorandum. "We are requesting an end to secondary victimisation by the police and in clinics," said Maotoana.
"Leaders and the Premiere's Office must also speak out against the killings – it makes it more powerful when the message comes from our leaders," she added.
The below pictures of the march are courtesy of Cobus Benade.