Knysna fires are God's wrath against gays: Pink Loerie responds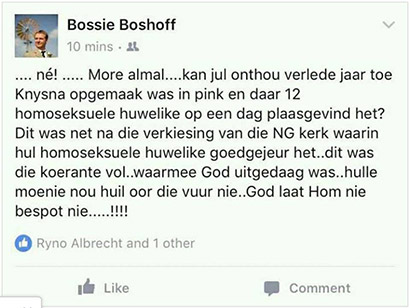 A man has claimed that God has punished the fire-ravaged town of Knysna because it hosts the annual Pink Loerie LGBTIQ Festival and supports marriage equality.
A screengrab of the appalling post has been circulating on social media. In it, a man called Bossie Boshoff writes in Afrikaans:
"Morning everyone… Do you remember last year when Knysna was decked out in pink and hosted 12 homosexual marriages in one day? That was just after the vote by the NG Kerk to approve gay marriage… It was all over the newspapers… in which God was challenged… They mustn't now cry about the fire… God won't allow himself to be mocked!"
The 2016 edition of the Pink Loerie Mardi Gras and Arts Festival held a mass wedding of 15 same-sex couples to commemorate the 10th anniversary of the Civil Union Act, which made same-sex marriage legal in South Africa.
While Mambaonline has not been able to independently verify the homophobic post, as the individual's Facebook page appears to no longer be active, numerous sources say it is genuine.
Johann van Niekerk, from the Pink Loerie Mardi Gras and Arts Festival Foundation, expressed his shock at Boshoff's alleged comments.
"It is sad that people in this day and age still believe in hatred and bigotry to such an extent that they laugh with excitement when a natural disaster like this occurs and a whole town is impacted and brought to the brink of total destruction," Van Niekerk told Mambaonline.
The organisers earlier this week announced their relief effort to assist residents affected by the deadly fires that have raged in the area. On Thursday, they traveled to the town to personally assist, helping to distribute water, baby food, maize meal and other supplies to victims.
"The Pink Loerie Festival has called Knysna our home for the last 17 years, and that was one of the reasons we jumped in to start assisting with the raising of funds and donations," said Van Niekerk. "We will continue to support and help the people in Knysna, now and in the foreseeable future."
"It is really bad," added the event's John O'Neil from the devastated town. "Unless you are here to experience it for yourself you won't realise how bad it is. It's just before noon but it looks like it's six in the evening because of the smoke."
In July last year, a George woman, Desiree du Preez, was taken to the Equality Court for making similar remarks about the Pink Loerie Festival on Facebook.
She wrote in April: "People of Eden, why do we allow a curse on our region due to the Pink Loerie Festival and mass gay marriage? It is only because Christians do nothing. Let us stand up and tell the gays they are no longer welcome. They have to find another home."
Du Preez agreed in court to offer an unconditional apology to the gay community in the local newspaper and on Facebook, and to undergo sensitivity training.
To find out more about how you can help the Pink Loerie's Knysna fire relief initiative click here.