Hands off my rights! Durban Pride 2017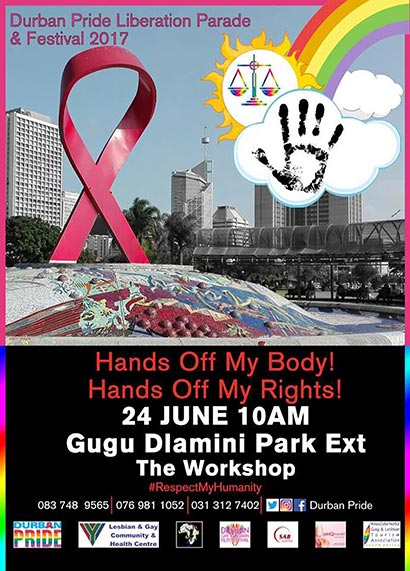 It's June and LGBTI Pride Month all around the world. In South Africa, Durban Pride will once again raise the international LGBTI rainbow flag of unity and diversity to commemorate lives lost, struggles won and journeys ahead.
It will also celebrate life, diversity and the right to self identity, determination and expression.
The 2017 theme is "Hands Off My Body! Hands Off My Rights!" with the hashtag #RespectMyHumanity.
The theme recognises the continued struggle against toxic behaviours towards women, children and members of the lesbian, gay, bisexual, transgender and intersex community.
"The ongoing abuse, name-calling, bullying in schools and work spaces, expulsion or denial of services or even education (e.g. due to choice or preferred uniform), abduction, rape, and murder cannot be tolerated," say the organisers of Durban Pride.
The Pride Week Programme will include spiritual awakening services by Christian, Hindu and Muslim communities; an array of films and workshops by the Durban Gay & Lesbian Film Festival; and a variety of chilled afternoon sessions of poetry, live entertainment, karaoke, soul, funk and more at various LGBTI friendly spaces.
The Pride Parade day is on Saturday 24 June from 10am to 10pm at Gugu Dlamini Park Extension (The Workshop.
The day includes a Mr & Miss Durban Pride Pageant; a flag raising; the Liberation Parade and Festival; the launch of AfroGames (African Gay Games); and a variety of after-parties.
The park will offer merchandising stalls, food vendors (meals, soft drinks, snacks, etc.) and a beverage and cocktail counter. So bring your camping-chairs, blankets and sunscreen cream and network with others. There will be flags, t-shirts, stickers and other rainbow items on sale at the stalls. The Workshop venue has both open and undercover parking and is easily accessible by public transport.
Durban Pride 2017 said it "calls everyone to action: rise and fight against these toxic behaviours towards women and children at the hands of others. Justice must prevail!"
For more details call 032 312 7402 or 083 748 9565 or visit the Durban Pride Facebook page.
Watch a promotional video for Durban Pride 2017 below, produced by the LGBTI-inclusive Deo Gloria Family Church.