LGBTI youth to stand proud on Youth Day with Young Heroes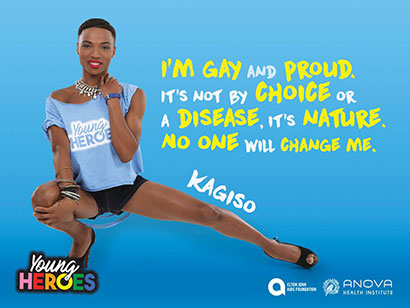 On 16 June 1976, a group of young South Africans took a stand against the injustice and inequality of Apartheid, sparking an uprising that spread across the country like wildfire.
Now, on 16 June 2017, young LGBTI people will once again have the chance to be part of a movement that ignites change, with the launch of Young Heroes.
Young Heroes is a new programme by the Anova Health Institute and funded by the Elton John Aids Foundation. Designed to empower adolescent LGBTI youth but specifically gay, bisexual as well as those questioning their sexuality, Young Heroes provides them with safe spaces, access to resources and a supportive community through its social media, website and mobile platforms.
Everyone can relate and identify with that awkward phase of being a teenager or young adult. It's a time filled with discovery, excitement and many changes. At the same time, it can be confusing, scary and inevitable that you ask fundamental questions about life, your place in the world and evaluate your sense of 'self'.
Some marginalised groups face various, other additional psychosocial issues. Bullying, trolling, shaming, homophobia, prejudice, racism, social alienation, depression, suicide, cultural and religious issues, core family rejection, poverty, homelessness and limited access to information are but a few of the realities that some young people are living with.
For lesbian, gay, bisexual, transgender and intersex (LGBTI) youth this trauma can have a significant, lasting impact on their psyche, relationships and health, which is evident in our adult LGBTI communities. Research has shown that peer victimisation related to sexual orientation and gender identity or expression is associated with a diminished sense of belonging, disruptions in educational trajectories and frequent substance use. It is also linked to high levels of depressive symptoms and even suicide.
Furthermore, LGBTI youth are at high risk of HIV infection which is elevated due to the unique challenges they face that can limit their access to support services and HIV prevention resources. These include losing financial and moral support from families and friends who do not accept their sexuality, discomfort with disclosing their sexual orientation or sexual behaviours to healthcare providers as well as being stigmatised, discriminated against and subjected to violence.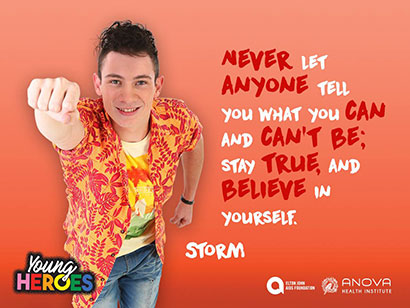 "Young Heroes equips young men with the tools to embrace their sexuality and physicality, cope with prejudice and stigma as well as protect themselves and their partners from sexually transmitted infections and HIV," says Nina Morris Lee, Head of Marketing at the Anova Health Institute, which has teamed up with the Elton John Aids Foundation to deliver this project.
"The platform also ensures that they have access to healthcare services that support sexual and mental health should they need it. All this within a space that provides a feeling of belonging, solidarity and non-judgment," she explains.
"The original Young Heroes of 1976 altered the socio-political landscape of this country profoundly and forever – demonstrating how formidable and resourceful the youth can be in bringing about change," says Morris Lee. "Today's Young Heroes have the same opportunity to change not only their lives – by making healthy, smart decisions – but also the lives of others and the world around them as a result."
Join the movement by visiting the Young Heroes website, http://youngheroes.co.za as well as by following the Instagram, Twitter and Facebook pages. Look out too for the Young Heroes team visiting selected schools around the country.