Theatre: The Mystery of Irma Vep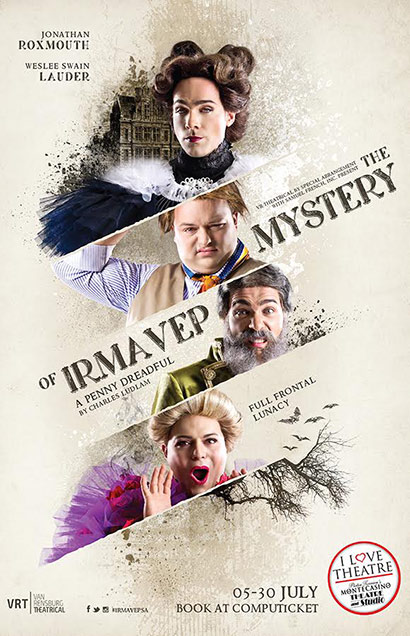 Downton Abbey and the Twilight saga collide in Charles Ludlam's spoof, The Mystery of Irma Vep.
On a remote manor called Mandacrest, something is amiss. Between the horrors of a marauding beast terrorizing the estate and the looming presence of the recently deceased former mistress Irma Vep, matters become awkward in the extreme for the Lord Edgar and his new wife, Lady Enid.
In this side-splitting comedy, all the residents of the Mandacrest estate travel from the moors of England to the tombs of Egypt and back again, encountering along their way a host of vampires, werewolves, mummies and all manner of things that go bump in the night.
With Gothic plot turns thrown out like thumbtacks on the road and a stage packed full of outrageous sets and costumes, Irma Vep is a visual feast that will have you in stitches right up until the final twist.
Even more bizarre than the cast of characters in this deliciously retro 'whodunnit?' is the fact that all of these lunatics, beasts, ghouls and gentlefolk are played by only two actors! The lightning-witted Jonathan Roxmouth and the inimitable Weslee Swain Lauder are to be seen (in dresses) to be believed in what is often referred to as a quick change act!
The Mystery of Irma Vep will be on the boards at Pieter Toerien's Montecasino Theatre from 5 – 30 July and at Theatre On The Bay from 2 – 19 August. Bookings through Computicket.