Malta overwhelmingly votes for marriage equality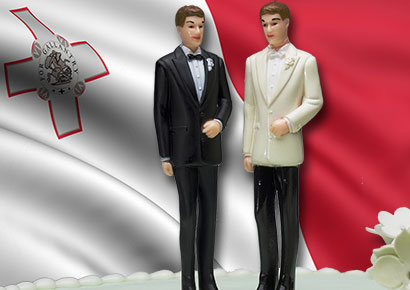 Despite being a predominantly Catholic country, lawmakers in Malta have voted to become the 15th EU nation to allow same-sex couples to marry.
In a nearly unanimous decision, MPs voted 66-1 to pass a bill to make Malta's Marriage Act gender neutral. The words "husband" and "wife" will be replaced with "spouse".
The bill also replaces terms such as "mother" and "father" with "parent who gave birth" and "parent who did not give birth".
Same-sex couples have been able to enter into civil partnerships since 2014, but the new legislation guarantees full marriage equality.
Edwin Vassallo was the only MP to vote against the amendment, reports the Independent. "A Christian politician cannot leave his conscience outside the door" when he enters parliament, he said.
Recently re-elected Prime Minister Joseph Muscat, who had promised to legalise same-sex marriage, welcomed the passage of the bill. "It's a historic vote. This shows that our democracy and society have reached a level of maturity and we can now say that we are all equal," he said.
"This step is the icing on the cake of the tremendous work by the Maltese LGBTI movement," commented ILGA-Europe Executive Director Evelyne Paradis.
"We congratulate the Maltese government for sticking to its commitments. We applaud everyone who has been working on this. To see equal marriage supported by practically the entire parliament is amazing," Paradis added.
The bill must still be signed by President Marie-Louise Coleiro Preca. It is expected that the first same-sex couples will be able to tie the knot before the end of the year.
With a population of around 440,000, the Mediterranean island nation is the smallest in the EU. It has, however, been one of the most LGBT affirming in Europe, with protection from discrimination on the basis of sexual orientation and gender identity included in its constitution.
Last year, Malta became the first country in the EU to ban conversion therapy, the dangerous practice of trying to change people's sexual orientation or gender identity.