Heroes star comes out as gay after being 'outed'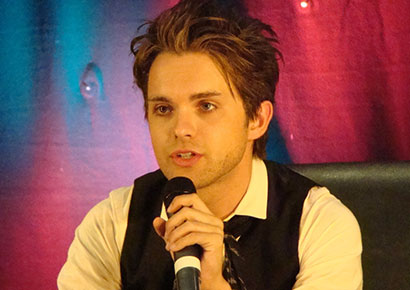 Following claims that he refused to play a gay character while starring in Heroes, actor Thomas Dekker has now come out as gay himself.
Openly gay producer and Heroes writer Bryan Fuller commented last week that an unnamed gay actor's management would not let him play his character as gay on the show.
"I had a brief stint on Heroes where the gay character was 'hetwashed' after the actor's management threatened to pull him from the show if he — the character, not the actor — were gay," Fuller said at the Outfest LGBT Film Festival .
While Fuller did not name the actor, it was understood that he was referring to Dekker, who played Zach in the series.
Dekker, who also starred in Terminator: The Sarah Connor Chronicles, has now come forward to confirm that he is not only gay but also married.
In a Twitter post on Thursday, Dekker, 29, said he decided to speak out now because, "My sexual orientation once again came into question this week when a prominent gay man used an awards acceptance speech to 'out' me".
Dekker continued: "While he did not mention me by name, the explicit details of his reference made it easy for the public and media to connect the dots.
"While it is an odd situation, I thank him because it presents a prime opportunity for me to publicly say that I am indeed a man who proudly loves other men. In fact, this April, I married my husband and I could not be happier."
Dekker had previously told the media that while he'd only dated women, he was open to dating men.
"I have never lied to the press about the fluidity of my sexuality but this man claiming that I came out is not true. Because I have not 'officially' until this moment," said Dekker. "I simply refuse to be robbed of the glorious joy that belongs to me. To say the words myself. 'I'm gay'. Those words are a badge of honour that no one can steal.
"Sexuality and who you love is a deeply personal and complicated thing. For some of us, it takes time to cultivate, discover and conclude. It is not something anyone should ever be ashamed of and certainly not something anyone should be rushed into."
Dekker said that while he agrees that LGBTQ celebrities have a responsibility to come out and change minds, "it is also a deeply personal decision. One that should only be made when you are ready".
He added: "If we are to stand strong in the gay community, our mission should be support, not exclusion; love, not shame. I choose not to look back on the past with a regretful heart but rather focus on the future with a hopeful one. A future where myself and all others can feel free to express their true selves with honour and dignity."
Dekker previously insisted that it was neither homophobia nor fear behind his refusal to make Zach gay in Heroes. He explained he'd conceived the character as a straight man from the start and that it simply didn't make sense to change his sexuality later on.
Fuller, who has created shows like Pushing Daisies, Hannibal and American Gods, has yet to comment on Dekker's coming out statement.
PLEASE READ ? pic.twitter.com/Uo5hM94Qp5

— Thomas Dekker (@theThomasDekker) July 14, 2017