Theatre: Monster In My Kas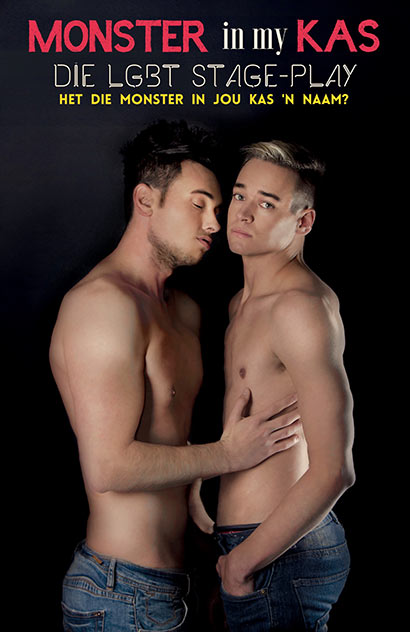 Monster In My Kas is a new Afrikaans-drama about gay sexual awakening that will premiere in Cullinan in September.
The production is a translated and redesigned version of Bill Rosenfield's coming of age play about coming out, 46 Beacon.
Produced by Take a Seat Productions, the 80-minute piece "shows the slow process of seduction" and is described as a "feelgood gay show".
Monster In My Kas is set in a hotel room in Cape Town, in the 1970s. Robert (an actor) has invited Henk (the theatre stage manager) back to his hotel room and although they are at different stages of their lives, they each have something the other wants, but is it the same thing?
Henk and Robert spend the evening together, hoping for a connection. Will it be emotional or physical? Slowly and patiently (by plying Henk with drinks and offering him a foot massage), Robert steers his naive guest towards his desired end result.
It is only after Robert's "sexual cat and mouse game" has paid off that the full truth about both characters starts to come out.
Monster In My Kas is the story of a night in which your life changes forever; the night you face the truth and put a name to the "monster" in your closet.
The play will be performed at Funny Farm Lodge in Cullinan for one night (9 September) but the producers aim to take it across South Africa in the months that follow.
Monster In My Kas stars Rohan Davis and Deon Vermaak and is directed by Deon Vermaak. (Contains strong sexual content, strong language and brief nudity.)
Venue: Funny Farm Lodge, Cullinan
Date: Saturday, 9 September, 19h00-20h30
Tickets: R100 / Book here