Mr Gay England wins Mr Gay Europe 2017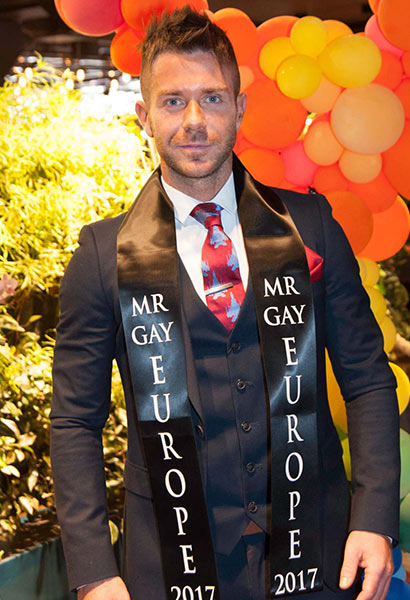 Matt Rood, a professional dog walker and dog trainer from England, has won the title of Mr Gay Europe 2017.
The result was revealed at Pride Park in Stockholm, Sweden, during Stockholm Pride on Saturday.
Rood, 37, said he hopes to use the platform of Mr Gay Europe (MGE) to help promote equality in adoption and fostering services.
"As a former foster carer and an out and proud gay man I have knowledge and experience of this subject and would like to encourage a positive attitude globally," he explained.
Rood won the Social Media Challenge and the "My Project" challenge, he came second in the preliminary interview, the photo challenge and the sports challenge, and he came third in the written test and forth in the online vote. His total score came to 845 out of maximum 1200.
"Matt Rood is one of the most dedicated and hardworking gay activists that I have had the honour to get to know through Mr Gay Europe," said Tore Aasheim, MGE President.
"With his big heart, his kind attitude but also strong devotion, and with a project that shows that he really put his money where his mouth is, Matt both showed us his commitment and the fact that you don't need to be a 'twink' to win Mr Gay Europe," added Aasheim.
The first runner-up was Ireland (Stephen Lehane), second runner-up was Scotland (Steven Whyte), and 3rd runner-up was Wales (Ben Brown); making it a top four scoop for the British Isles.
The written test was won by Whyte. The test was drawn up by attorney Coenie Kukkuk from South Africa, who was the external examiner.