Finally! Inxeba (The Wound) to screen in Jozi and Cape Town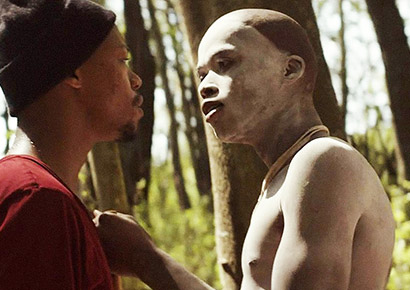 Here's your chance! Although it's only being officially released next year, there will special limited screenings of the controversial film Inxeba (The Wound) in Johannesburg and Cape Town this month.
The cultural phenomenon will be shown from 15 to 22 September at Ster Kinekor Rosebank in Johannesburg and Ster Kinekor V&A Waterfront in Cape Town.
While debate has raged around the film, few in South Africa have actually been able to see it for themselves. These screenings are an opportunity to finally watch the much talked about movie ahead of its official February 2018 cinema release.
The limited showings are in order for Inxeba to be able to qualify to become South Africa's appointed film for the Foreign Language Film Academy Award in 2018. It's only local screenings to date have been at events in Durban, including the Durban Gay and Lesbian Film Festival.
"However you feel about the film, we invite you to come and watch it and join in the dialogues that it has instigated," said the producers.
Inxeba, which has received critical acclaim around the world, has ignited a firestorm of controversy in South Africa because of its depiction of same-sex attraction within Xhosa culture and of sacred male initiation rites.
AmaXhosa king Zwelonke Sigcawu has even called for the film to be banned for violating cultural sensitivities and traditions. The cast and crew have also been threatened on social media, with lead actor Nakhane Touré subjected to violent threats, including that of being burned alive.
Directed by John Trengove, Inxeba tells the story of Xolani, a lonely closeted Xhosa factory worker who joins the men of his community in the mountains of the Eastern Cape to initiate a group of teenage boys into manhood.
In July, the gay-themed drama added to its global critical acclaim by winning Outfest's International Grand Jury Prize in Los Angeles.
It first premiered at the Sundance Film Festival in January and went on to be screened at other festivals around the world. It has also won awards for Best Film and Best Actor at Cinema Jove, the Valencia International Film Festival.
According to the producers, tickets will become available for the upcoming screenings on the Ster Kinekor website shortly before 15 September.