Watch: Here's the trailer for Lady Gaga's raw and unfiltered new doccie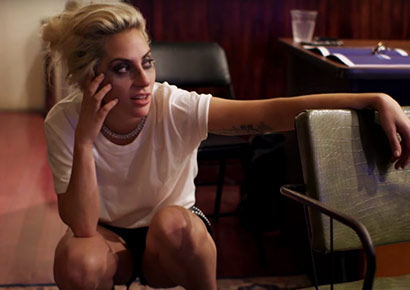 Fans of Lady Gaga are in for a treat, with the upcoming release of a revealing and no holds barred documentary exploring the star's life and work.
Called Gaga: Five Foot Two, the film covers a year and documents the events around the production and release of her fifth studio album, Joanne, and her already iconic halftime performance at the Super Bowl.
The feature length film will début at the Toronto International Film Festival in the coming days before having a worldwide streaming release on Netflix on September 22.
A teaser has just been released of the juicy documentary, which is directed by Chris Moukarbel – and it shows the 31-year-old Born This Way singer and performer like you've never seen her before.
We'll get to see the strain of living under the spotlight and the toll it takes on Gaga's personal life and relationships as well as the intense preparation and commitment she puts into her work.
According to Netflix, Five Foot Two will include the filming of her guest role on American Horror Story: Roanoke, and a discussion about her ongoing feud with the legendary Madonna. The star, who identifies as bisexual, is also seen crying in a corridor.
In one scene in the trailer she visits her grandmother's house, during which she gets high on marijuana. Before lighting up a joint, Gaga says: "Let's get stoned in Grandpa's car!"
The teaser also features Gaga mingling and working with other stars, such as singer Florence Welch, producer Mark Ronson and designer Donatella Versace. More sneak peaks from the film were also released on Gaga's Instagram account (with more tea on the Madonna feud), which we've included below.
Watch the teaser and more below.