Outrage as KZN pastor says gay people possessed by demons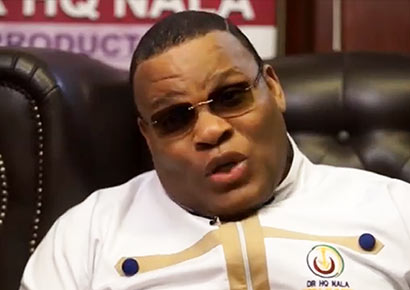 Charismatic Christian pastor Hamilton Nala has claimed on national television that he can cleanse gay people from the demons behind their homosexuality.
"We don't believe that God create homosexuality, we believe that homosexuality is like when you get a child with three legs," Nala told ENCa's Checkpoint programme, broadcast on Tuesday.
Nala runs the Nala Mandate International church in Durban, which has a devoted following of believers who buy his "faith products", such as water, oils, lotions, honey and perfumes.
He has claimed in the past that he's raised the dead and cured HIV with his water and oils.
As pointed out by Checkpoint, the KwaZulu-Natal region is known for cultural conservativism towards homosexuality, often reinforced by homophobic and patriarchal religious leaders.
In the interview, the self-proclaim prophet and king explained that he provides "deliverance" from homosexuality, which he claims is caused by an "unseen spirit that is tormenting a person". He went on to compare same-sex love with alcoholism and committing adultery.
Nala said gay people are possessed by spirits of the opposite sex, such as a woman he "healed" who was possessed by male demons. "Homosexuality is a spirit, whether you are born with it or whether you got it after you were born… It's like AIDS," he stated.
Checkpoint also spoke to two women who Nala claimed to have cured of homosexuality. The programme's narrator said, however, that they sounded rehearsed and their stories could not be verified.
Nthoka Mkoatle told the show that she was now married to a man and had a child, and that her "deliverance" was in part thanks to using Nala's "holy water" but mainly due to his prayers.
Thembeka Mbamba claimed to be a former lesbian who had a male spirit inside her that Nala had exorcised. "I fell down and the spirit rose up and I saw the image of a man," she said.
Checkpoint also interviewed a number of lesbian and gay people and couples who were positively and affirmingly presented as well as experts who repudiated the pastor's views.
However, in a statement, the recently formed Pro ANC LGBTI collective not only condemned Nala's "barbaric" views but also ENCA for giving him "a platform to mislead our people".
"We believe that the effects resulting from the airing of this hogwash has the greatest ability to destroy innocent lives and perpetuate hate motivated crimes," said the collective.
"Although we believe that pastor Nala, like all South Africans is entitled to an opinion and association, we find it to be extremely problematic if his views threaten the lives of many others who are sexual minorities."
Watch the Checkpoint programme in three parts here.