Encore screening of Inxeba (The Wound) in Durban as DGLFF 2017 resumes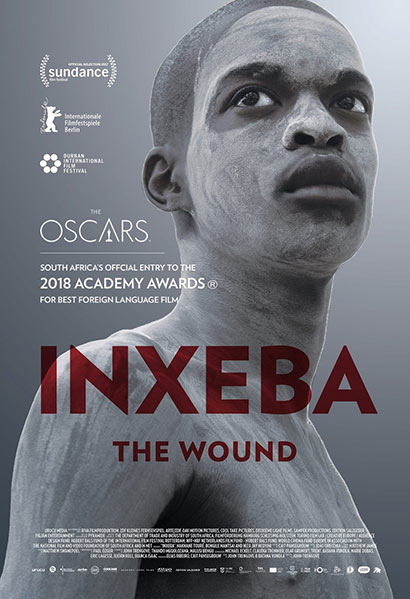 The Durban Gay & Lesbian Film Festival (DGLFF), which resumed this week, will have a final screening of Inxeba (The Wound) this Saturday.
The event, which was originally set to take place at the end of August, was postponed after it was faced with unexpected last minute requirements by the Film & Publications Board (FPB) that it submit all the films on the programme for classification.
"We were geared for our best festival yet, and the news that FPB needed us to wait 30 days whilst they checked our film selection, with only something like three days to spare, was devastating on planning, and the momentum we'd built up," lamented festival director Jason Fiddler.
"Of course I have to respect where the FPB is coming from, and I share their commitment to protecting minors from harmful material. The DGLFF's focus has been on mature and LGBTIQ-relevant content so I was confident there."
Having now fulfilled the technical requirements of the FPB, the event has restarted with screenings across the city. These include a showing of Inxeba this Saturday 7 October at 7pm at the KZNSA gallery in Glenwood, Durban.
A daytime community screening is also being coordinated off the main programme – this will be announced on the festival Facebook page, Twitter feed and the festival website.
The critically acclaimed and award winning Inxeba stars musician and novelist Nakhane Touré as Xolani, a lonely factory worker who joins the men of his community in the mountains of the Eastern Cape to initiate a group of teenage boys into manhood. The film has been officially selected as South Africa's entry into the foreign language section of the Academy Awards in 2018, a decision that has continued to stir calls from traditionalists for its banning.
The revised festival programme is already under way and continues until Wednesday 11 October. "I'm very pleased that the FPB had no issues with our original selection of 47 films, although the Danish documentary Miss Rosewood was classified 18 SN," says Fiddler. "There are some powerful documentaries, an extraordinary selection of short films and entertaining feature films await."
Included in the remaining programme is the US musical-romantic drama Something Like Summer. The great news is that an American benefactor bought out a whole lot of tickets to give away to audiences, so the first 25 arriving on Friday 6 October get theirs for free.
The film will now also be up for a free daytime community screening, thanks to this sponsor's support! Details will follow.
An adaptation of the novel by Lambda Literary Award-winning novelist Jay Bell, Something Like Summer tells the story of two boys whose secret relationship in high school appears to be doomed, only for them to encounter one another years later as friends and even enemies. It stars Davi Santos (Power Rangers), Ben Baur (Hunting Season, #Adulting) singer-actress Ajiona Alexus (Fox TV's Empire), and introduces Grant Davis, who performs six of the seven songs in the film; Ajiona performs the seventh as a solo.
Argentinean drama Bromance screens on Tuesday 10 October at the KZNSA at 7pm. It tells the story of three 20 year olds who make a trip looking to reconnect, to regain their teen-hood friendship. But time has changed them and the intrusion of a girl will take them to the limit and will test their desires up to the breaking point of all the ties that binds them.
Monday 9 October brings about the now annual tradition at DGLFF of francophone cinema, "French Nite" at Alliance Francaise Durban in Morningside, with a selection of documentary and narrative films. In Even Lovers Get the Blues, Ana is sleeping with Hugo, Dalhia with Graciano, Léo with Louis, and Arthur with everyone. Parties and love affairs lead to heart searching, deep desires and the craving to live life to the full. It is a portrait of the love and sexual lives of disenchanted and passionate young people.
In continuing its long standing partnership with the Durban Lesbian & Gay Community & Health Centre, DGLFF is arranging free daytime community screenings of short film packages at 3pm, at the centre in Morningside, on Friday 6, and Monday 9 through Wednesday 11 October. Seating is very limited and on a first-come, first-seated basis. The centre offers clinic services and HIV testing as well as outreach and advocacy work.
A feast of great documentaries start at 2pm on Saturday 7 October with Carlos Jáuregi, The Unforgettable Fag, a feature length film about Carlos Jauregui, gay rights activist, friend, lover, fighter, an icon, and inspiration for the masses. He was the first gay to come out on the cover of a magazine in the '80s. His conviction and courage changed the lives of Argentine LGBT community and history of a country and its laws. He led the first Pride March in Argentina unifying the LGBTIQ movement. He laid the foundations of dialogue and the way to anti-discrimination towards the homosexual community.
That is followed at 4:30pm by a pair of South African documentaries speaking to the transgender experience: Locked In looks at being trans and Muslim whilst The Story of Ziggy is a fascinating short documentary that briefly outlines the life of a woman in mid-transition to becoming a man, exploring the challenges of black South African gender identity in a complex youth society.
The world premiere of South African gay horror short film Shadow takes place on Saturday 7 October at 6pm, just before Inxeba at 7.
The closing night film is the extraordinary Zulu lesbian short film Sina Nomakotshana (Dance with the Maidens) at 7pm on Wednesday 11 October. It tells the story of a people-pleasing girl from a staunchly religious and homophobic family falls in love with her dance partner, and must choose whether to come out of the closet during her traditional Zulu initiation into womanhood, or give up on her lover.
The revised Durban Gay & Lesbian Film Festival programme is available online and all screening information in the printed souvenir guide books remains relevant (apart from dates and times). Information and PDF download can be found at the festival website www.dglff.org.za.