Therapy marks 21st birthday with Therapy Sextravaganza 2017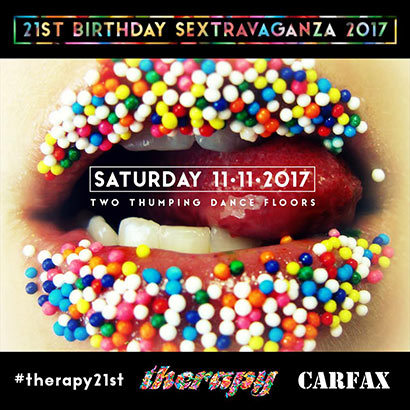 The iconic local "queer dance party" brand, Therapy, takes partying to an even higher level for its 21st birthday – Therapy Sextravaganza 2017 – on Saturday 11 November at Carfax in Johannesburg.
Join them for their 'coming-of-age' celebration of music, glamour, cultural and gender equality and above all else, the love of a good time!
Therapy is not about selling a VIP status (all of its patrons are VIPs), it's not about big name DJs, although it has had many of those, it's about the party experience that is uniquely Therapy.
Therapy's 20th birthday event 'Love Injection' was proclaimed "Party of the Year" by MambaOnline in 2016, and with Sextravaganza, it has an even bigger and better plan for this huge milestone in its proud history of entertaining clubland.
The Therapy history
Therapy was founded in 1996 by well known DJ Stuart Hillary in Johannesburg. It has remained firmly entrenched in the hearts of party lovers, classy clubbers and gender queer crowds, as well as being an open and free environment for all.
A regular flow of international DJ talent and a dedicated focus on the music, combined with local creativity, has kept Therapy on par with the best internationally for over 20 years.
The 21st birthday Therapy Sextravaganza production
For this special night, Therapy returns to the Carfax venue in Newtown, which once again will pull out all the stops for Therapy.
Enjoy two thumping dance floors with full-service bars and lounge areas, superb sound, and seductive lighting, making up the two entertainment areas: Therapy-Lite Courtyard and Big-Room Therapy.
Expect laser and lighting shows and a top line-up of DJs. They'll serve up the latest and best Tech-House and Techno in Big-Room Therapy, while Therapy-Lite will take you on a blissful joyous musical journey with Therapy Classics, Disco, and Deep soulful house.
You'll be welcomed by "door whore" supreme Betty Bangles into the superb industrial setting, decorated in true birthday party style. With her recent reality TV show and as a host on The Casper Radio Show on CliffCentral, Betty Bangles is the ultimate Therapy Door-Whore; perfect for the attitude-control befitting our 'coming-of-age' Sextravaganza.
"They need to impress to get in," Betty says. "The only thing short about me is my temper," she laughs.
Your official host for the evening is the lovely Bryan. He'll be managing the door and putting together special packages for "groups" that share cars or Ubers (there are reduced ticket prices to promote safe-partying at Sextravaganza 2017).
The MC, Master-of-ceremonies, and party-fluffer supreme is Doctor Feel Goode.
BIG ROOM THERAPY DJS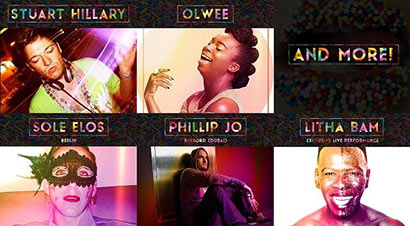 Groove Element: His gorgeousness does not compare to his talent. Well known for long residencies at Risque, ESP, Truth, and regular Therapy appearances, Groove Element not only plays superb house music but also produces it and owns his own record label. True class to get the party started right!
Stuart Hillary: A discography of Therapy creator Stuart Hillary's 25 years dance industry would fill volumes. Residencies at legendary clubs like Mrs Henderson's, The Embassy, Krypton, GASS, Therapy, Bitch, Legends, and ESP. His talent has afforded him opportunities to play nationally and internationally alongside the likes of Boy George, Alan Thomson, Carl Cox, Sasha, Digweed, Josh Wink, Junior Sanchez, Frankie Knuckles, Tony de Vit, Fedde Le Grand, and Danny Rampling to name a few. Stuart is a well-established icon in the gay scene and at the very heart of keeping gay clubbing alive in South Africa.
Exclusive live performance by Litha Bam: Litha Bam is a South African film and TV actor and singer. His passion for music led him to study music, in both New York City and Los Angeles. Litha will perform his glamorous and sexy first release Feel the Music.
Phillip Jo – REKKORD (Dubai): An international DJ, producer and promoter. Highly acclaimed for over 40 releases by some of the most respected underground dance labels, Phillip Jo created REKKORD and recently TONIK. He's performed alongside heavyweights like AME, Pirupa, Mihalis Safras, Aki Bergen, Alex Dolby and many more. Get ready for the off-the-wall tunage that his eclectic underground sets are all about!
Russell LDQ: Russell is pure techno and perfect at every Therapy event! You literally get taken places that you didn't know existed. Legendary status was achieved for him with regular gigs at Therapy, GASS, Bitch, Legends, Sliver and Discotech since he started djing in 2000.
THERAPY LITE COURTYARD DJS
Groovy Q (Cape Town): Massively popular! A Therapy-Lite dance floor experience would be incomplete without Groovy Q. After relocating to Cape Town five years ago, Therapy had to bring him up for Sextravaganza 2017 to take that floor to the next level, as he always does! Pure love!
Olwee: Olwee is simply divine – he is especially worshiped for the dance performance that comes with his sophisticated house-savvy. Effortlessly, he might drop Diana Ross' The Boss, blending it all in perfectly – and sending the dance floor into literal ecstasy. He plays venues like Taboo, Zone 6 Venue, Moloko, Cocoon, Kong, Great Dane, and at Therapy Love Injection 2016, and is the headline DJ for the Therapy-Lite Courtyard.
Sole Elos (Berlin): International DJ, musician and producer Sole Elos is going to take Therapy-Lite into the future! His slogan: "There are no borders – There is no limit – Follow the noise – Be your fate!" doesn't fail to inspire. Sole says about himself: " With my music I want to talk to everyone no matter what sexual orientation, gender, skin colour or race. My music is designed to talk to a deeper lying and universal musical self in all of us."
Therapy's 21st Birthday Sextravaganza 2017 is brought to you by SKYY vodka in association with Red Bull Studio and MambaOnline.com.
Associate sponsors are: Best Body and Skin, Matthew Mansoor –celebrity hair stylist, The Melville Turret, Caroline Hillary-PR and media, Department of Squares-artwork, Beefcakes.
EVENT DETAILS
When: Saturday 11 November 2017
Where: CARFAX, 39 Gwi Gwi Mrwebi Street, Newtown, Johannesburg (-26.20118, 28.02857). Credit Card facilities as well as cash purchase facilities available
Time: 9PM – 4AM
Door Ticket Prices: Before 10pm – R180, thereafter R220
Online Ticket Prices: Through Nutickets here – Early bird R120 (until 18 October), thereafter R160 (until 10 November)
Right of admission reserved: No under 18s, No Attitudes.
Disclaimer: Therapy is a LGBTIQ event and maintains an open-minded party policy, which shows respect for all partygoers, no matter gender, sexual orientation, race or culture.
Peace Love Unity Respect. Therapy has a "no cameras and phones" policy; phone usage is allowed, but not on the dance floor – "phones off, party on!"
For regular updates stay tuned to Therapy on Facebook and Twitter