Starbucks South Africa shows its love for Gauteng Pride month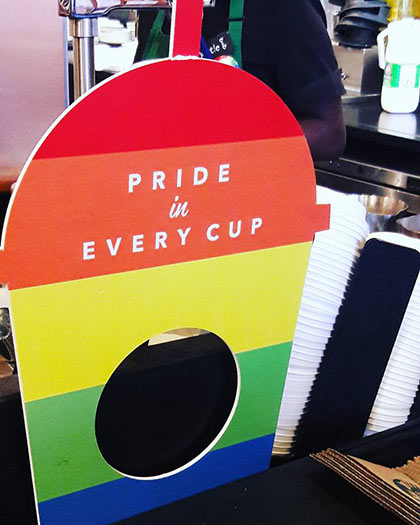 In a still rare but welcome example of local corporate support, Starbucks South Africa is celebrating LGBTQ Pride month in Gauteng.
The world-renowned American-based coffee shop chain has six stores in the province and is using them to salute the LGBTQ community with its "Pride in a Cup" campaign
The campaign, which runs through October, includes in-store posters and signage that feature the rainbow flag.
Fans of the brand can further enjoy a limited edition Red Berry Yoghurt Frappuccino that's on sale in honour of Pride.
"Our 'Pride in a Cup' campaign seeks to create positive conversation around diversity," Starbucks South Africa PR and Communications Manager Fareed Mohammed told Mambaonline.
"Diversity and inclusion is at the heart of our business and creating an inclusive environment for our partners (staff) and customers is paramount," he said.
Starbucks staff will also be joining the Johannesburg Pride march later this month with Pride badges and Pride flags.
"We have a long history of supporting Pride month in the US and the UK and, this year, we are really proud to celebrate Joburg Pride," added Mohammed.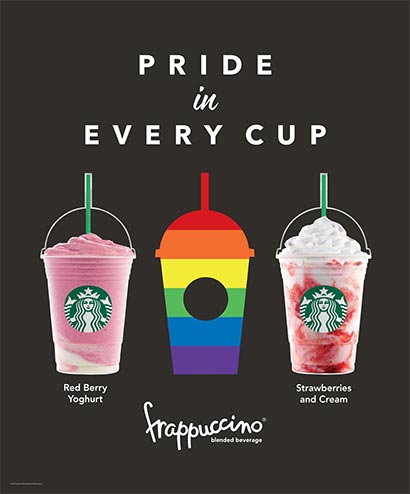 A number of consumer brands and companies in western countries visibly and publicly support Pride events and Pride month. In addition to Starbucks, other examples include Nike's Pride shoes, Ben & Jerry's ice cream and even Nando's restaurants in the UK.
Despite South Africa's progressive constitution, similar public demonstrations by local corporates are not common in the country.
There have been some positive examples. In 2016, consumer goods giant Unilever South Africa lit up its head office in rainbow colours to celebrate Durban Pride Week.
Also last year, Uber showed its support for Johannesburg Pride with a pro diversity message and rainbow flag that popped up when using the service. The graphics of cars displayed on the app were also followed by little rainbow streaks.
Johannesburg Pride, Africa's first and longest-running LGBT Pride event, is set to take place on Saturday 28 October at Melrose Arch. For more details, click here.