Outrage as new Twitter rules erase bisexuality and other LGBT identities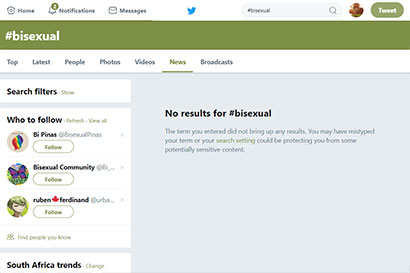 Twitter is under fire for censoring searches for the word "bisexual" and other LGBT terms under its new content policy.
On Friday, the social media company published its revised "Twitter Rules" which will now further restrict the depiction of adult content on its site (unless this is flagged as 'sensitive').
Twitter explained that, "while the fundamentals of our policies and our approach have not changed, this updated version presents our rules with more details and examples."
Unfortunately, it appears that words like bisexual and lesbian have fallen foul of the new rules, presumably because of the assumption that they "must be" related to adult content.
For example, searching for images, news or videos under the term #bisexual on Twitter results in a blank page and a message that reads:
"No results for #bisexual – The term you entered did not bring up any results. You may have mistyped your term or your search setting could be protecting you from some potentially sensitive content."
There have also been claims that some searches for #gay and #transgender have led to similar results, although Mambaonline has been unable to replicate this. When we searched for #lesbian, however, only a single – visually unrelated – image appeared.
According to one report, more than 20 countries have so far confirmed the #bisexual or LGBT restrictions.
The company was quickly accused of "deliberate bisexual erasure". The Human Rights Campaign tweeted: "@TwitterSupport we're surprised to see some searches for #bisexual and #gay blocked. We urge you to fix – #LGBTQ visibility matters."
A user, Esther, also commented: "…why is the #Bisexual tag blocked ??? Twitter allows nazis and terrorists but doesn't allow love??? Kinda strange isn't it. ??"
Revan Athame, added: "Removing literally every photo someone posted under the hashtag #bisexual erases us even more than we already are and is harmful to us."
Twitter has yet to directly address the problem, but on Sunday appeared to acknowledge that something was indeed wrong.
The company's support account tweeted: "We've identified an error with search results for certain terms. We apologize for this. We're working quickly to resolve & will update soon."
In March, YouTube was accused of restricting a wide range of LGBTQ themed videos because they were considered too sensitive for young people.
Some videos that addressed LGBTQ identity and issues were blocked by the site as "potentially inappropriate" material. Other similar videos that related to heterosexuality were not censored. After widespread protests, the site apologised and corrected the bias.
We've identified an error with search results for certain terms. We apologize for this. We're working quickly to resolve & will update soon.

— Twitter Support (@TwitterSupport) November 5, 2017
.@TwitterSupport we're surprised to see some searches for #bisexual and #gay blocked. We urge you to fix – #LGBTQ visibility matters. pic.twitter.com/RTjcCdl7Pc

— HumanRightsCampaign (@HRC) November 5, 2017
NO PHOTOS show when you search #Bisexual on Twitter.

Pride in London stands in solidarity with our Bisexual friends.

?? #WHEREISTHEBI??? ?? pic.twitter.com/eikifv5rRh

— Pride in London (@LondonLGBTPride) November 5, 2017