This gay couple just won SA's biggest interior design reality show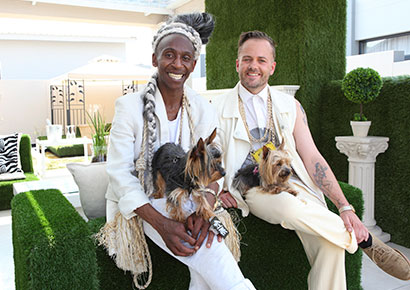 A same-sex couple have just won the fourth season of SABC3's Win a Home, thanks to their spectacular "razzle dazzle" interior design sensibility.
On Friday, Brad Muttitt and Abiah "Superstar" Mahlase burst into tears when they were told that the judges had selected them for the R100,000 prize.
The flamboyant couple of five years were one of three two-person teams to compete in the series, in which each duo took on the challenge of decorating an empty cluster home at the Eye of Africa Golf and Residential Estate.
Over 17 episodes, and room by room, Brad and Abiah impressed the judges and wowed audiences with their daring and unconventional sense of style. The pair was mentored by Amanda Graham, the Deputy Managing Editor of Habitat Magazine.
They stood out not only thanks to the strength of their interior design work but also their vibrant personalities and striking appearance. Their dogs, Baby and Boss, were often seen at their sides in the show.
The Joburg couple are both romantic and business partners; collaborating in their menswear brand, Amen. Abiah has previously been included on GQ's list of '50 Best Dressed Men' and is a part-time lecturer at LISOF fashion school. Brad has experience in merchandising and store design in the retail industry and is also a part-time lecturer at LISOF.
"Dreams really do come true," Abiah told Mambaonline about their win. "It's a good feeling – it really makes us feel that we have a place in this creative industry," added Brad.
As for facing any homophobia or negativity due to their sexuality from the public, the couple insisted they had only received a positive response.
"If we got any hate speech, it was because of our fashion and outfits," Abiah laughed. "Honestly speaking, we received a lot of love during the show. I think people were overwhelmed by our combination, in terms of I'm black and Bradley's white, and I've got the hugest hair and our fashion sense is also overwhelming. But people surprised us with so much love – even the contractors and the construction guys."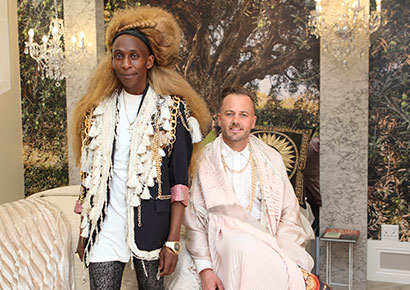 They admitted, however, that participating in the show took its toll on their relationship. "It was hard and we were pushing ourselves. We wondered, 'can we make it through this competition and still stay together'? We were bringing work home, and it was long nights and early mornings. It really strained our relationship, but it also made us stronger," said Abiah.
The duo revealed that they plan to use their Win a Home success as a foundation upon which to build an interior design business. "It's the beginning of global domination," exclaimed Abiah.
In addition to the decorators' prize, a member of the public – Capetonian Zintle Kom – also won her choice of one of the completed homes, worth a whopping R3million.