This town tried (and failed) to ban drag shows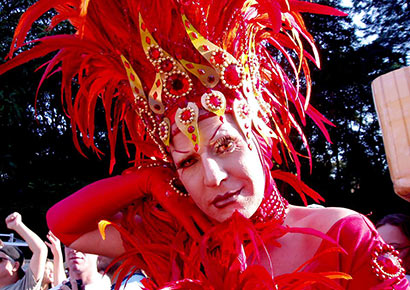 Councillors in Portland, Tennessee, have failed in their months-long bid to ban drag shows in the American town of around 12,000 people.
The controversy started in August when the Envy Restaurant Bar & Grill hosted a series of wildly popular sold-out drag shows, put on by Elite Productions.
The councillors (also known as aldermen) were so offended they devised a plan to classify male or female impersonation as "adult cabaret" and an "adult-oriented business" in a new ordinance.
They then hoped to use the law to legally ban drag shows. (US courts have previously ruled that towns may reasonably restrict adult entertainment.)
Their efforts, however, were stymied by the American Civil Liberties Union (ACLU) of Tennessee and the Tennessee Equality Project, which represented the drag performers and the venue.
The groups pointed out in a series of letters to the councillors and the mayor that the ordinance violated the First Amendment and that there was nothing erotic about the drag shows, which were performed fully clothed.
"[They are] not inherently sexual or erotic in nature, so Elite Production's drag shows cannot be regulated like an adult-oriented business," commented Mandy Strickland Floyd, from the ACLU of Tennessee.
She noted that the aldermen had admitted that they had never actually been to see the shows. The matter became a hot-button issue in the town and led to protests and a campaign to protect the right to perform drag in Portland.
Succumbing to pressure, the ordinance that was ultimately passed classifies "adult cabaret" as erotic entertainment with the performers exposing certain anatomical areas.
"Since those criteria do not apply to the Elite shows, our clients are free to perform without government interference," said Floyd. "In the end, there was just no way around the First Amendment."
In a statement on behalf of the drag performers, Tennessee Equality Project attorney Kevin Teets welcomed the revisions to the final ordinance. He said it will "respect the first amendment rights of my clients while also recognising that not all drag performances are erotic in nature."
Teets explained that the groups had been prepared to take the matter to court to ensure that the town could not treat "members of the LGBT community as anything less than equal members in the community".
Floyd added: "As the town's aldermen learned, just because they don't like a particular kind of speech does not give them the power to shut it down."