What were they thinking? Gay couple face jail time for naked temple selfies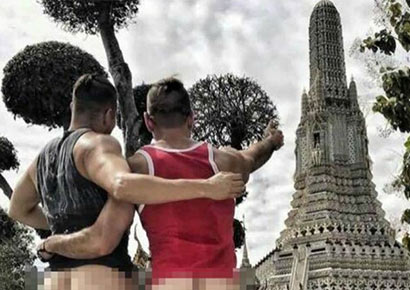 A gay American married couple are in serious trouble after they posed for semi-nude photos in front of a Buddhist temple in Thailand.
Travis and Joseph Dasilva, both 38, were arrested at Don Mueang International Airport when they tried to leave the country on Tuesday night.
The couple had earlier posted pictures on social media of themselves, from behind, in front of the Wat Arun temple in Bangkok.
What made the images stand out from typical tourist photos was that they had pulled down their pants and exposed their buttocks.
Immigration officials put the San Diego men on a watch-list at the airport after the pictures were noticed by the authorities.
While Thailand is known for being a gay friendly and welcoming country, all tourists are advised to behave and dress conservatively in religious spaces.
It appears that Travis and Joseph regularly post similar rear-exposing images of themselves in front of monuments around the world, under the name of 'Travelling butts'.
The men were at first charged with public indecency, for which they could be fined, but now face more serious charges that could see them jailed.
"The charge would not be a normal public indecency charge," said the Thai government in a statement. "Instead, they would be charged with committing indecency in a place of worship, which carries a long jail term."
The government added: "This is a reminder that everyone should have respect for Thai religion and culture."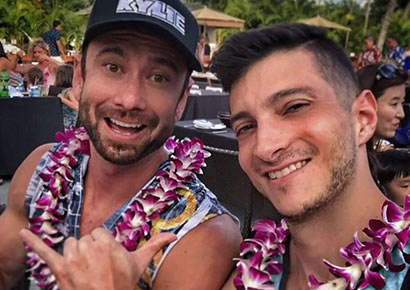 San Diego City Commissioner Nicole Murray-Ramirez, who is also an LGBTI activist, told the San Diego Gay and Lesbian News that the men had requested assistance from the city.
"Though I am very disappointed in their actions, I am talking to US government officials to see what assistance we can give them," he said.
Murray-Ramirez added: "Honestly, we are concerned about the years they are facing in prison, but at the same time, they have sadly projected a stereotype of what many people feel is typical of American tourists.
"This has turned into a very difficult case and an international case and this does not bode well for them."