Russia bans naked rowers' anti-homophobia calendar
A charity calendar featuring naked rowers from England's Warwick University Rowing Club has reportedly been banned by Russia.
Sales of the annual homoerotic calendar, and associated videos and merchandise, help keep the club afloat and go towards Sports Allies, an organisation that combats homophobia in sport.
According to the calendar's creators, Russian customs officials recently blocked copies of the 2018 edition from coming into the country, returning them back to the UK.
There have also been claims that Russia was behind a cyber attack that temporarily downed the calendar's website.
It's believed that the Russian officials rejected the calendar under the country's so called "gay propaganda" law which restricts the depiction of "non-traditional sexual relationships".
"My heart goes out to the rowers' Russian fans, who are increasingly subjected to acts of hatred and discrimination that shouldn't be tolerated in any society anywhere across the globe," Angus Malcolm, the producer of Warwick Rowers and the chairman of Sport Allies, told The Independent.
"The fact Russian customs rejected our calendar is nothing compared to the suffering some LGBT+ people face every day, but it acts as a signifier of the wider problem.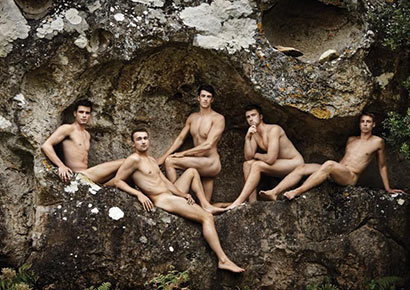 "If they can't cope with a few naked bums, then frankly that's quite sad."
Malcolm added: "With the rise of Putin's brand of populism around the world, we have never needed straight allies like the Warwick Rowers more than we do now."
Warwick is a genuine rowing club. It was founded in 1966 and has produced some outstanding rowers.
The idea for the first calendar came about in 2009 because the team struggled to maintain their dilapidated boats.
The cheeky calendar has become increasingly famous around the world. Its success means that the club is not only on a firm footing but has also been able to extend the profits to help sport become more LGBT-inclusive.
Images: Warwick Rowers