It's love! Meet Ekurhuleni's longest married gay couple
One of Gauteng's longest-married same-sex couples, Jackie and Wiseman Mndaweni, recently renewed their marriage vows while also celebrating their 10th wedding anniversary.
On 25 November, the two men held a colourful celebration in Katlehong, Ekurhuleni, to commemorate their happy day in front of 150 friends, family and members of the community.
The tent was adorned in festive Hawaiian colours and entertainment was courtesy of the local DJ.
"It was fun and it was to say thanks," says Jackie, a professional makeup artist and decorator.
"I remember before it was legalised we used to go for marches and to protest to legalise gay marriage. Now we've got it, so why can't we embrace it? Why can't we celebrate it?"
He continues: "Renewing our vows meant so much. Telling other people that we are gay but we are still normal human beings. I was walking tall, saying 'this is us'."
The couple, who have been together for more than 20 years and legally married for 10, were also recently awarded a certificate by GBT Connextionz, an Anova project, honouring them as Ekurhuleni's longest married gay couple.
"We met at a friend's party," Jackie told Mambaonline. "It was love at first sight. We started dating that day and from that day we started getting very close to each other."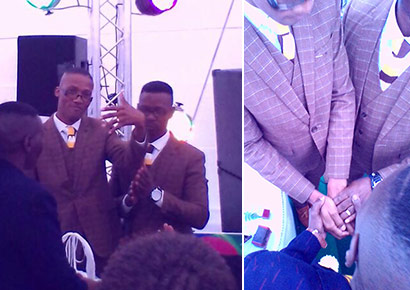 While homosexuality is still frowned upon by many South Africans (almost 50% don't believe we should have equal rights), the couple's marriage was accepted by their families.
"They were so supportive. Wiseman even paid lobola for me," reveals Jackie.
"There were lobola negotiations, there was the exchange of blankets and sheep and goats. We did the whole thing!"
As evidenced by the enthusiastic crowd at their vow renewal, the couple are also accepted and acknowledged as part of their community and seen as role models for other LGBT people.
"We are an example to those others who are growing up. We need to tell people that gay people are there and that gay relationships exist; and they are genuine – very, very genuine," Jackie says: "Straight people are looking at us, saying ' this gay thing doesn't work.' But we showed them it does work."
He also believes it's important to break down the stereotype that same-sex attraction is simply a matter of who a person has sex with. "It's also about love. Gay is not about sex, it's about who we are and who we love," Jackie insists.
Nicodemas Machobane, Intervention Facilitator for Anova, which honoured the couple for their longstanding relationship, agrees. "We are often just described as 'men who have sex with men' or MSM. Getting married, like Jackie and Wiseman did, portrays another message about gay and bisexual people."
While he recognises that the LGBT community is diverse and that marriage is not necessarily for everyone, it is important to show that "it is possible to get married and stay together for a long time".
Machobane says that LGBT communities must be aware "that our relationships are also recognised under the law".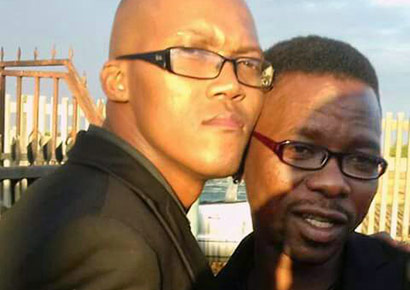 Marriage, he adds, is not just an emotional and spiritual commitment but also provides partners in relationships with legal protections.
When asked about the secret to maintaining a long-lasting and loving relationship, Jackie replies with a plethora of advice.
"It's love!" he exclaims. "You must always communicate. If there's a problem you sit down and you come up with something. Tell each other, 'I love you so much'. Respect goes a very long way. And you must always be humble; if you have done something wrong, apologise."
For Jackie, there was one aspect of the vow renewal ceremony that struck a sad note. "My mom wasn't there because she was ill and in hospital," he explains. He, however, is positive this will be rectified in time. "In the next five years, we'll be celebrating our 15 year anniversary. And then she will be with us," he says with a smile.