Report: Temple butt-baring gay couple to be released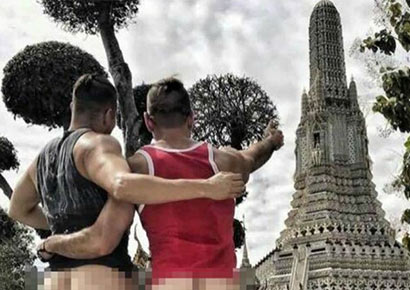 It appears that the gay American couple who posed for selfies with their pants down at a temple in Thailand will not be jailed after all.
According to San Diego Gay and Lesbian News (SDGLN), Travis and Joseph Dasilva will be heading back to the US when they are released shortly.
The site reports that charges against them were withdrawn by a court after the 38-year-olds spent more than a week in jail.
A friend, Robert Rodriguez, who has spoken to the San Diego men told SDGLN that the married couple would be processed for release within five days.
"They wanted me to thank everyone for their thoughts, prayers and concerns," Rodriguez said. "They send all their love to their friends that have supported them."
The Dasilvas faced up to five years in jail after they posted pictures on social media of themselves embracing, naked from behind, in front of the Wat Arun temple in Bangkok.
The authorities said at the time that they would be charged not with public indecency but with the more serious crime of "committing indecency in a place of worship".
The couple have regularly shared similar rear-exposing images of themselves in front of monuments around the world on social media, under the name of 'Travelling butts'. The religious setting of the Bangkok temple, however, was a step too far for the Thais.
The Dasilvas have faced severe criticism at home and around the world, particularly from members of the LGBTIQ community, for their actions.
SDGLN publisher, Johnathan Hale, said that while he agreed the men could have shown better judgement, he was shocked at the level of vitriol against the couple on social media.
"Reading through a few of the comments, I was embarrassed by my own community," said Hale."There were comments which showed no concern for Travis' and Joseph's well-being."
While Thailand is known for being a gay friendly and welcoming country, all tourists are advised to behave and dress conservatively in religious spaces.