Inxeba (The Wound) inches closer to Oscar glory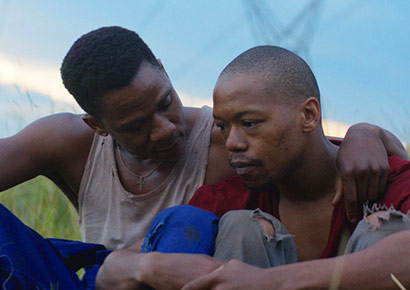 Acclaimed gay-themed South Africa film Inxeba (The Wound) has taken another step forward in its bid to win the best foreign-language film Oscar.
On Thursday, the Academy of Motion Picture Arts and Sciences announced the nine films that have been shortlisted to become nominees for next year's awards, set to be held in March.
According to The Hollywood Reporter, these films were whittled down from a record 92 titles that were submitted for consideration to the Academy from countries around the world.
The nine shortlisted films, which include the controversial Inxeba, will now be screened for committees in New York, Los Angeles and London. These committees will vote to select five final nominees, which will be announced on 23 January, and will go on to compete for the Oscar.
"We are so proud to announce that The Wound has made it to the Oscars shortlist!" said the producers on Facebook. "This is unreal! Thank you so much to everyone for their support! Enkosi!"
There was a mixed response to the news in October that the gay love story had been chosen as South Africa's official submission to the 2018 Academy Awards.
The OR Tambo Initiation Monitoring Forum claimed that the film's submission was an act of "selling our culture and rituals" to the West.
Traditional leaders in the Eastern Cape also slammed Inxeba for its depiction of initiation ceremonies and exploration of same-sex love and masculinity within a sacred cultural context.
In August, AmaXhosa king Zwelonke Sigcawu called for the film to be banned for violating cultural sensitivities and traditions. The cast and crew have also been threatened on social media, with lead actor Nakhane Touré subjected to violent threats, including that of being burned alive.
Directed by John Trengove, Inxeba is the story of Xolani, a lonely closeted Xhosa factory worker who joins the men of his community in the mountains of the Eastern Cape to initiate a group of teenage boys into manhood. There, he confronts the man whom he has secretly loved for years.
The film won Outfest's International Grand Jury Prize in Los Angeles after premiering at the Sundance Film Festival in January. Inxeba (The Wound) is only being officially released in South African cinemas on 2 February 2018.
The films shortlised for the best foreign-language film Oscar are:
Chile, A Fantastic Woman, Sebastián Lelio, director
Germany, In the Fade, Fatih Akin, director
Hungary, On Body and Soul, Ildikó Enyedi, director
Israel, Foxtrot, Samuel Maoz, director
Lebanon, The Insult, Ziad Doueiri, director
Russia, Loveless, Andrey Zvyagintsev, director
Senegal, Félicité, Alain Gomis, director
South Africa, The Wound, John Trengove, director
Sweden, The Square, Ruben Östlund, director