Indonesia | 10 jailed over gay sex party while trans women detained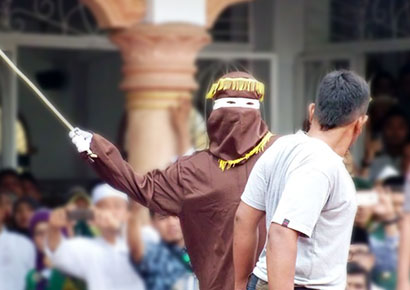 Ten of the 140 men arrested in May during a raid on a party at an alleged gay sauna in Jakarta have been sentenced to prison.
According to AFP, while the other men were released, the ten individuals were found guilty on 14 December of violating the country's anti-pornography law.
In addition to spending two years in jail, they were also ordered to pay huge fines of one billion rupiah (US$70,000 / R946,986).
Court documents stated that the men had "been proven guilty beyond reasonable doubt of displaying nudity and sexual exploitation collectively in public."
Activists have accused the authorities of using the anti-pornography law as a means to target and discriminate against LGBTIQ people.
Human Rights Watch also reports that a group of transgender women attending a birthday celebration in Indonesia's Aceh province on Saturday were harassed by vigilantes.
A mob alerted the local Sharia (Islamic law) police, who detained seven women for 24 hours, and chastised them for "bad morals" before releasing them.
Last week, Indonesia's Constitutional Court ruled by a slim margin to reject a petition that would have criminalised homosexuality and premarital sex with a penalty of five years in prison.
While homosexuality is not currently illegal, the LGBTIQ community has come under increasing fire over the last two years. This has included censorship, harassment and arrests, abuse and intimidation by religious groups as well as homophobic condemnations and inflammatory statements by officials.
There have been at least five raids targeting LGBTIQ people in private spaces in 2017, despite a pledge by Indonesian President Joko "Jokowi" Widodo in October last year that "there should be no discrimination" against LGBTIQ people.
In one of the most high profile cases, unidentified vigilantes forcibly entered an apartment in Aceh province in March and took two men in their twenties to the police for allegedly having same-sex relations. Two months later, authorities publicly flogged the men.